With Appdome, you can Fuse the Microsoft Intune SDK and MicroVPN without having to write a single line of code, prep the app or change any settings. The iOS (.ipa) or Android (.apk) app you are Fusing on Appdome can be built with any tool such as xCode for iOS and Android Studio using any mobile development frameworks such as Xamarin, Cordova, and React Native.  Whenever you Fuse an iOS and Android app with the Intune SDK you can use the EMM tunnel or the MicroVPN.  
What is MicroVPN?
The purpose of MicroVPN is to harden the application connection. Note that it's not truly a VPN (It doesn't tunnel the connection through a remote server), instead, it's a component in the application itself that takes care to ensure secure connection parameters.  MicroVPN is an industry standard term.
How to integrate the MicroVPN with Intune SDK using Appdome
When Fusing an app with the Intune SDK, you can add the app as a line of the business app in Intune.  As a line of business app, apps can be provisioned, controlled, and managed and by Intune.  By using Appdome's MicroVPN with the Intune SDK, the app will be managed by Intune and have the ability to utilize a secure connection to backend corporate services. 
1. Add an app to the Appdome platform
2. Go to the Managment tab
3. Enable EMM Service Microsoft Intune SDK
4. Under Tunneling Scheme select MicroVPN by Appdome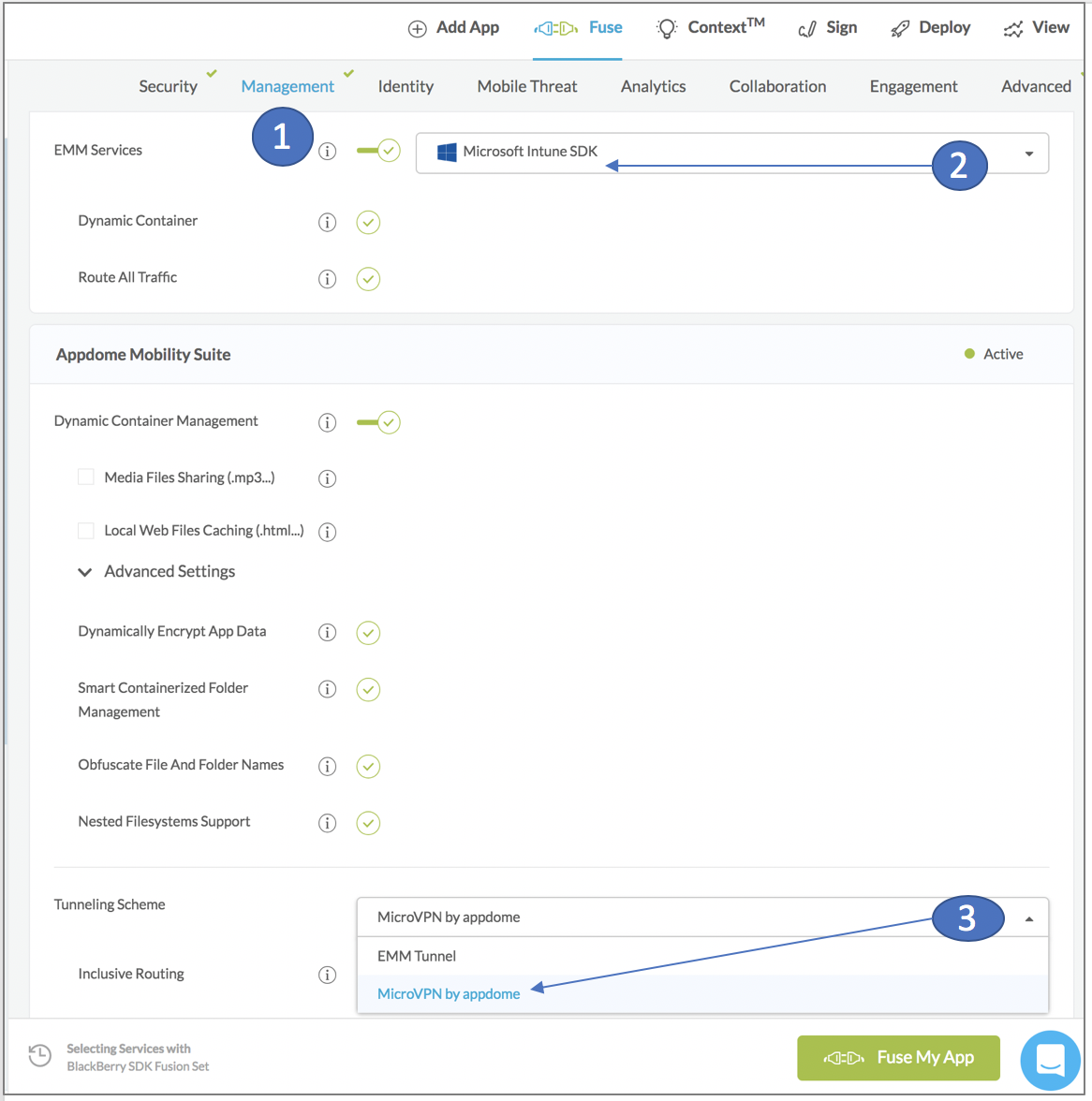 5. You can enable Session Hardening to give your app control parameters that will protect the app from connecting to servers that are not highly secure. 
      - Strict Protocol Checking, when enabled, will prevent the Fused app from connecting with un-secure servers. 
Secure servers that use these algorithms can connect to your Fused app:DHE-RSA-AES256-GCM-SHA384, DHE-RSA-AES128-GCM-SHA256, ECDHE-RSA-AES256-GCM-SHA384, ECDHE-RSA-AES128-GCM-SHA256, DHE-RSA-AES256-SHA256, DHE-RSA-AES128-SHA256, ECDHE-RSA-AES256-SHA384, ECDHE-RSA-AES128-SHA256.  
      - Server Validation can be enabled for validating the server identity and trust chain.  
6. If you want to route specific domains over MicroVPN you can specify the domains under Inclusive Routing. If you don't enable Inclusive routing, all communication from the app is hardened. If you enable Inclusive Routing, communication to the domains you add will be hardened. All other traffic is permitted. 
7. A Fused app with MicroVPN can use Client Pinning.  This pinning allows client-side certificates to be added to the Fused app for connecting with servers that require them.  
8. Click Fuse My App to integrate the app with the Microsoft Intune SDK, Appdome Mobility Suite and BoostEMMTM by Appdome.


NOTE: The Fusion process takes approximately one minute to complete.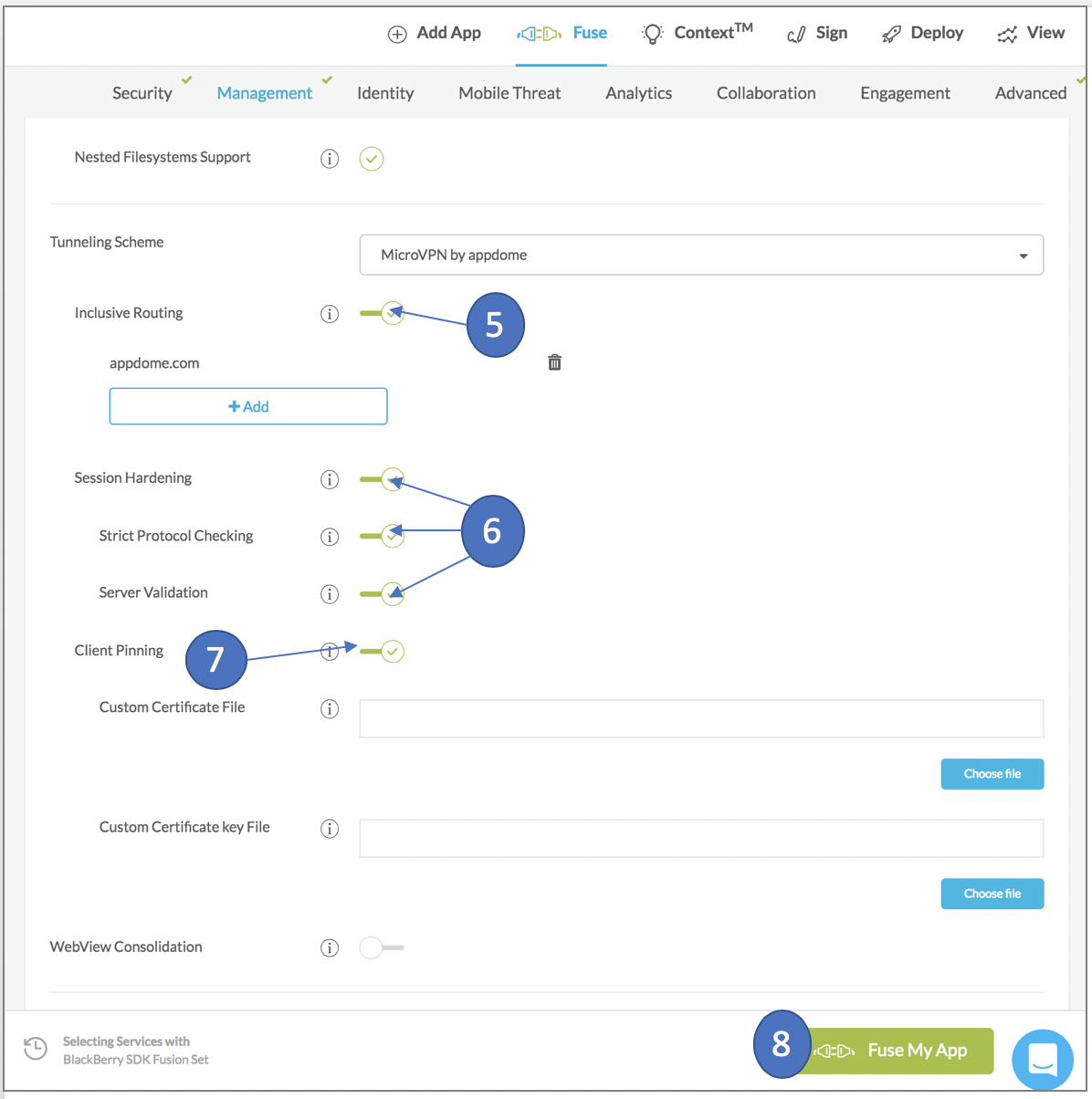 Add Context to the Fused App
 After the Fusion process ends, you will be redirected to the Context page.
Optionally, you can edit the App Display Name, App Icon, add Favicon.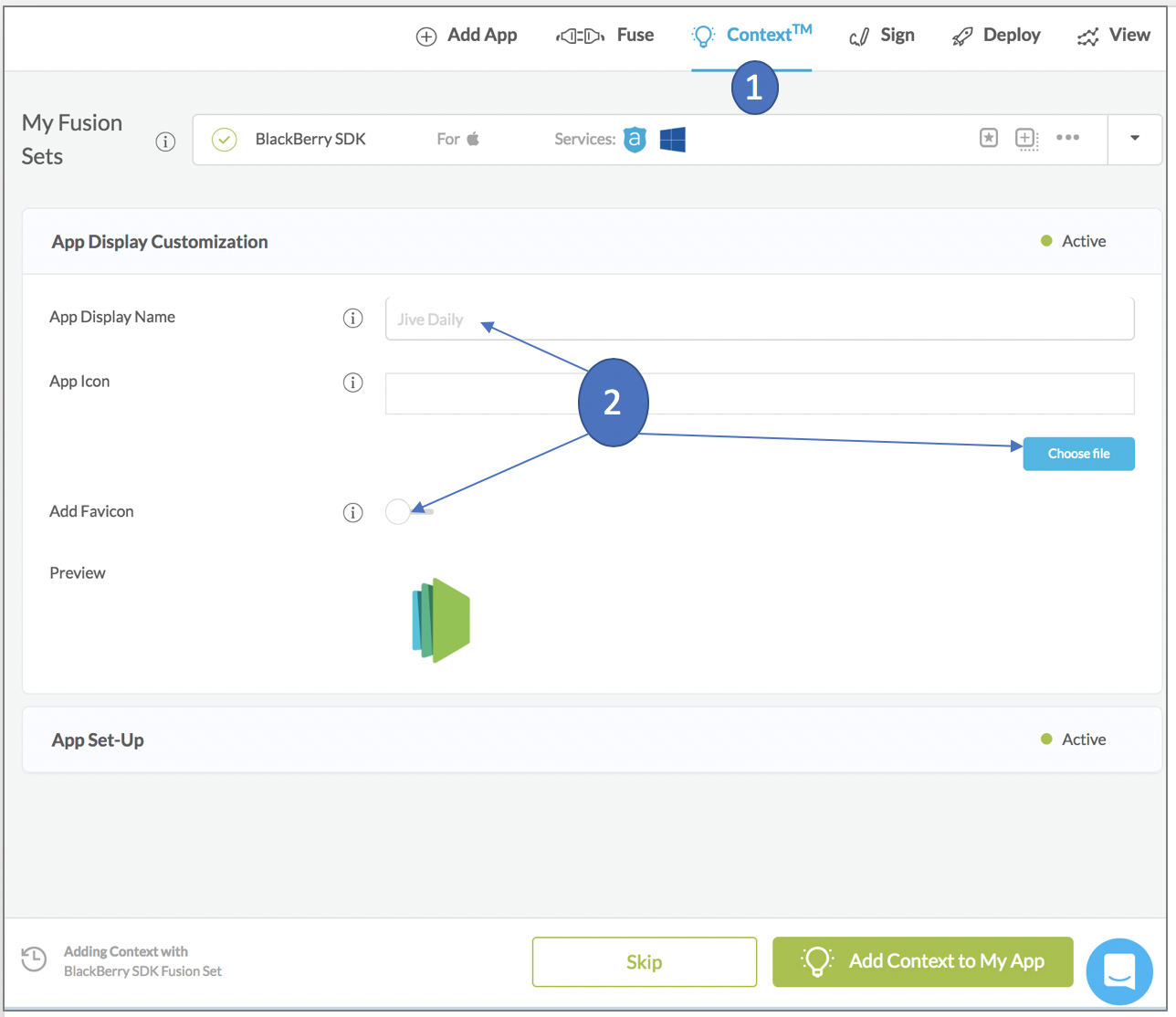 Sign the Fused App
In order to deploy a Fused app, it must be signed.  You can sign using your own signing processes by downloading the Fused app, or you can sign from within the Appdome platform.  
Explanations for how to sign an app using the Appdome platform are available in the following knowledge base articles.
To sign an iOS app:
https://appdome.com/signing-ios-apps-on-appdome-end-to-end/
- To sign an Android app:
https://appdome.com/signing-android-apps-on-appdome/

- To skip the signing process and perform singing on your own, click the Skip button to the left of the Sign button to proceed to the app download section.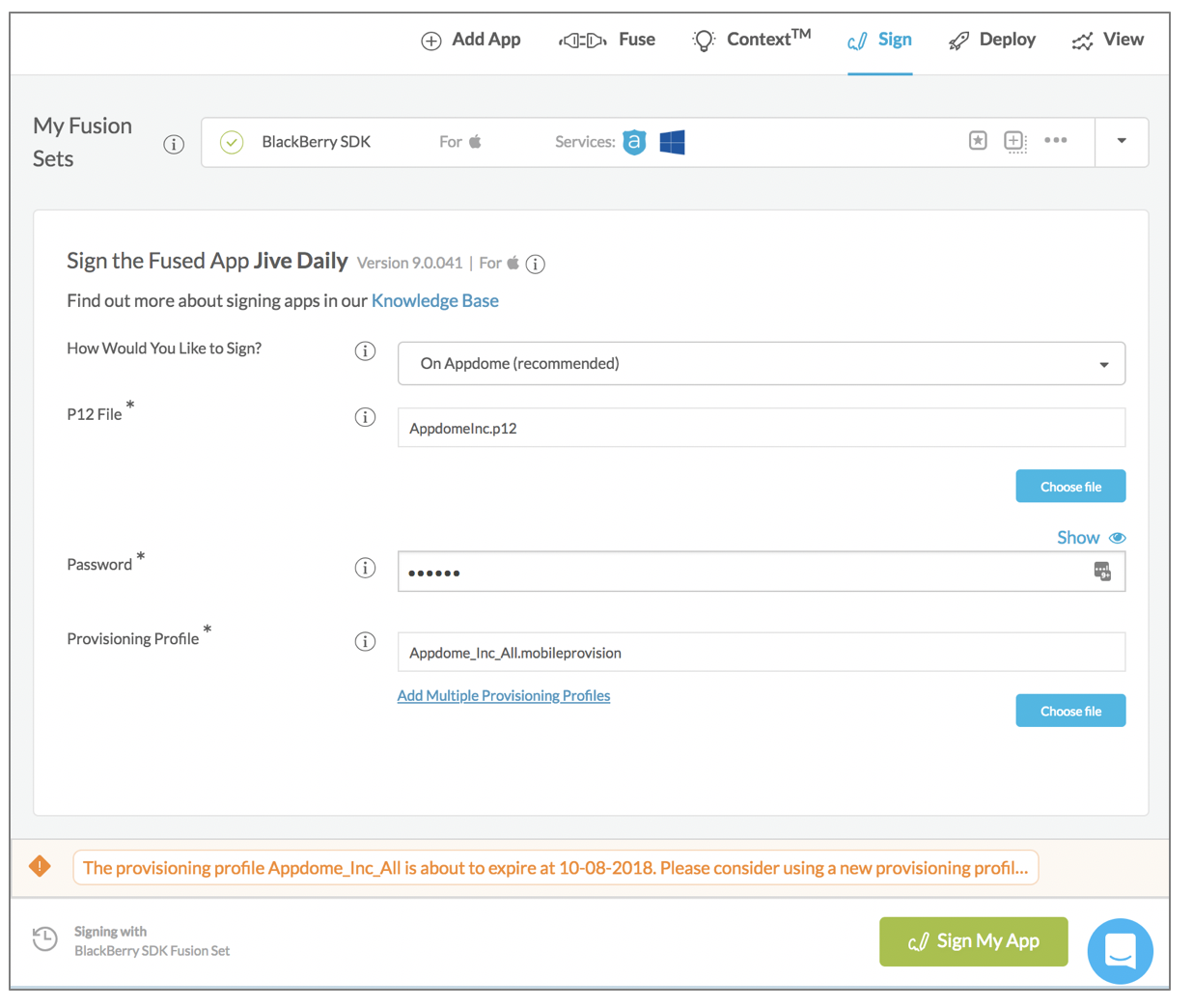 Deploy
Congratulations! your Fused app is ready for deployment!  Download the Fused app to your local storage and follow the Microsoft Intune Steps to deploy the app on your Intune environment.

Thanks for visiting the Appdome knowledge base!  We hope Appdome is living up to our mission of simplifying your mobile integrations.  If you don't already have an account, you can sign up for free.  Happy Fusing! 
For more information on Microsoft Intune please visit this resource.