Use Appdome to integrate Okta Identity Cloud Single Sign-On using SAML or Open ID Connect to any mobile app - instantly, and without coding.
When Fused with Okta, apps can be integrated to support SAML or OpenID depending on what the Identity Provider supports. Apps do not need to support SAML or other authentication mechanisms to be Fused with the Okta Identity Cloud service. 
Key use cases and features enabled by Appdome for Okta identity services include:
Okta Hub URL
Authentication Successful URI
Okta Triggering URI
OpenID Authentication
Client ID
Additional Appdome Single Sign-On features:
Cached Credentials
In-App Private ID Vault
Streamlined Authentication (for iOS)
Developers and non-developers can now easily implement the full functionality of the Okta SDK instantly, using a simple 'click to implement' UI, instead of manual coding.
The app you are Fusing on Appdome can be built with any tool such as xCode for iOS and Android Studio using any mobile development frameworks such as Xamarin, Cordova, and React Native. 
This article will show you the steps to integrate your app with the OKTA - Identity Cloud SDK. 
Steps to Fuse your App with the Okta Identity Cloud SDK
To get started, you will need to have an account on Appdome, a promo code to access the Okta SDK on Appdome, an iOS or Android App, and signing credentials. 
If you don't have an account on Appdome, it's a simple process. Click here to create an account.
If you need any help, please click the chat icon on the bottom right of the Appdome platform or email Appdome support. We're happy to assist. 
Login to Okta to Create a Native App and Pick an OpenID
After logging into your Okta environment follow these steps:
Create an Okta Application
Select Platform Native app
Enable Sign-on method OpenID Connect and click Create
Enter an Application name and a Login redirect URI then click Save 
Okta assigns OpenID Client ID
Assign this app to users
Gather the Okta Hub URL, Redirect URL, and ClientID
Add your iOS (IPA) or Android (APK) App to Appdome
After your account is ready, you will need to have your app binary available to upload to Appdome.  You can use signed or unsigned  IPA or APK files.
To begin, click Add New App
Upload new app or choose an app from the Catalog and click Add to My Apps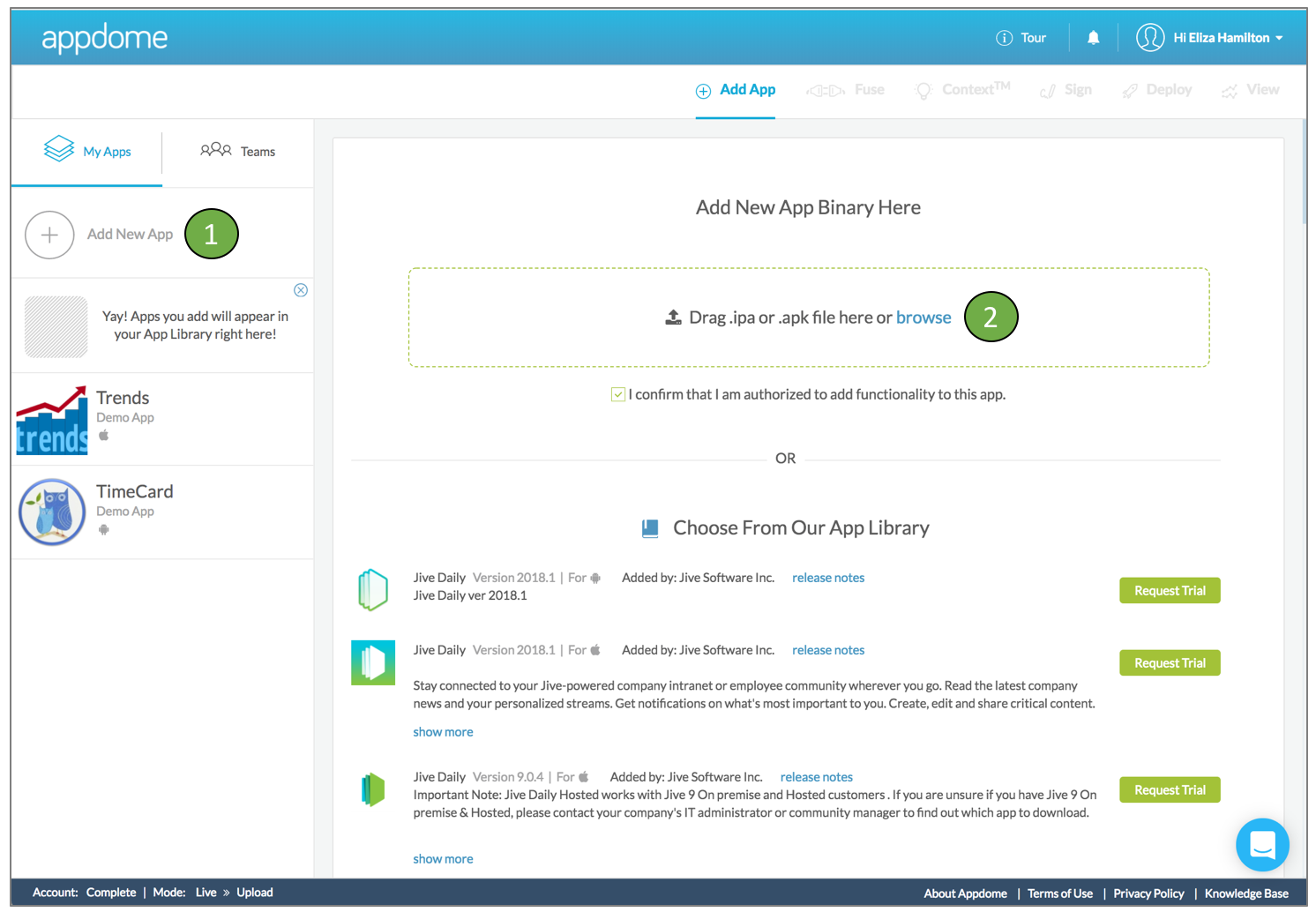 Your app will appear in your app library on the left side of the page when done. 
Get ready to make your Fusion selections 
After your app is uploaded to Appdome, you are ready to make your Fusion selections from the Fuse tab of the workflow.
Select your App from your App Library
Click Next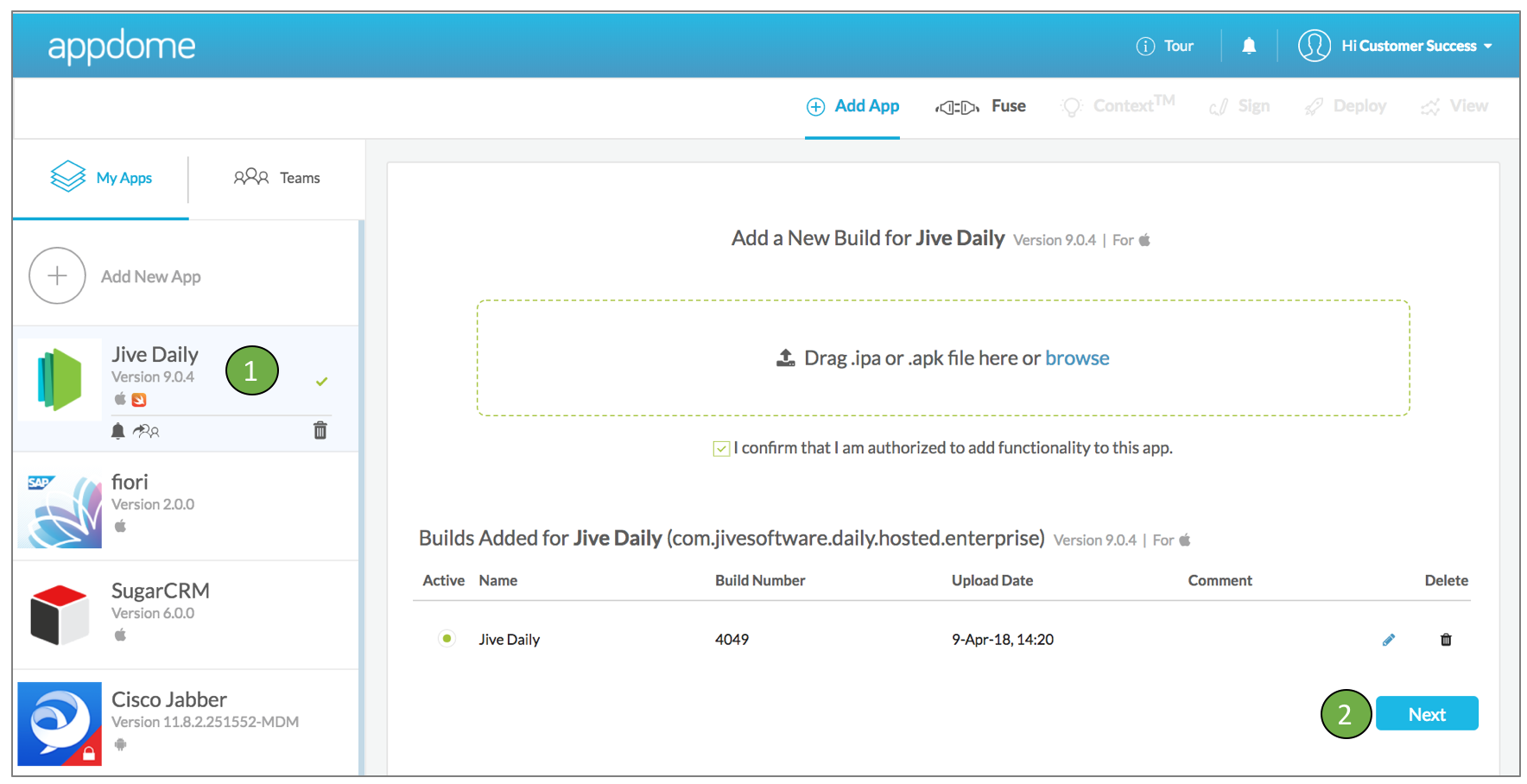 Add the Okta - Identity Cloud SDK
Now all you have is a few more button clicks. ;-) 
From the top of the Fusion workflow, select Identity
Under SSO Services, slide the lever to the right to enable SSO Service Providers. 
From the drop-down list, select OKTA - Identity Cloud
Add the Okta Hub URL,
Authentication Successful URI,
Okta Triggering URI
If your deployment uses Open ID - Enable OpenID Authentication
If using OpenID Authentication - Enter the Client ID
If you want to enable In-App Private ID Vault and/or Streamlined Authentication slide the lever to the right of them
Click Fuse My App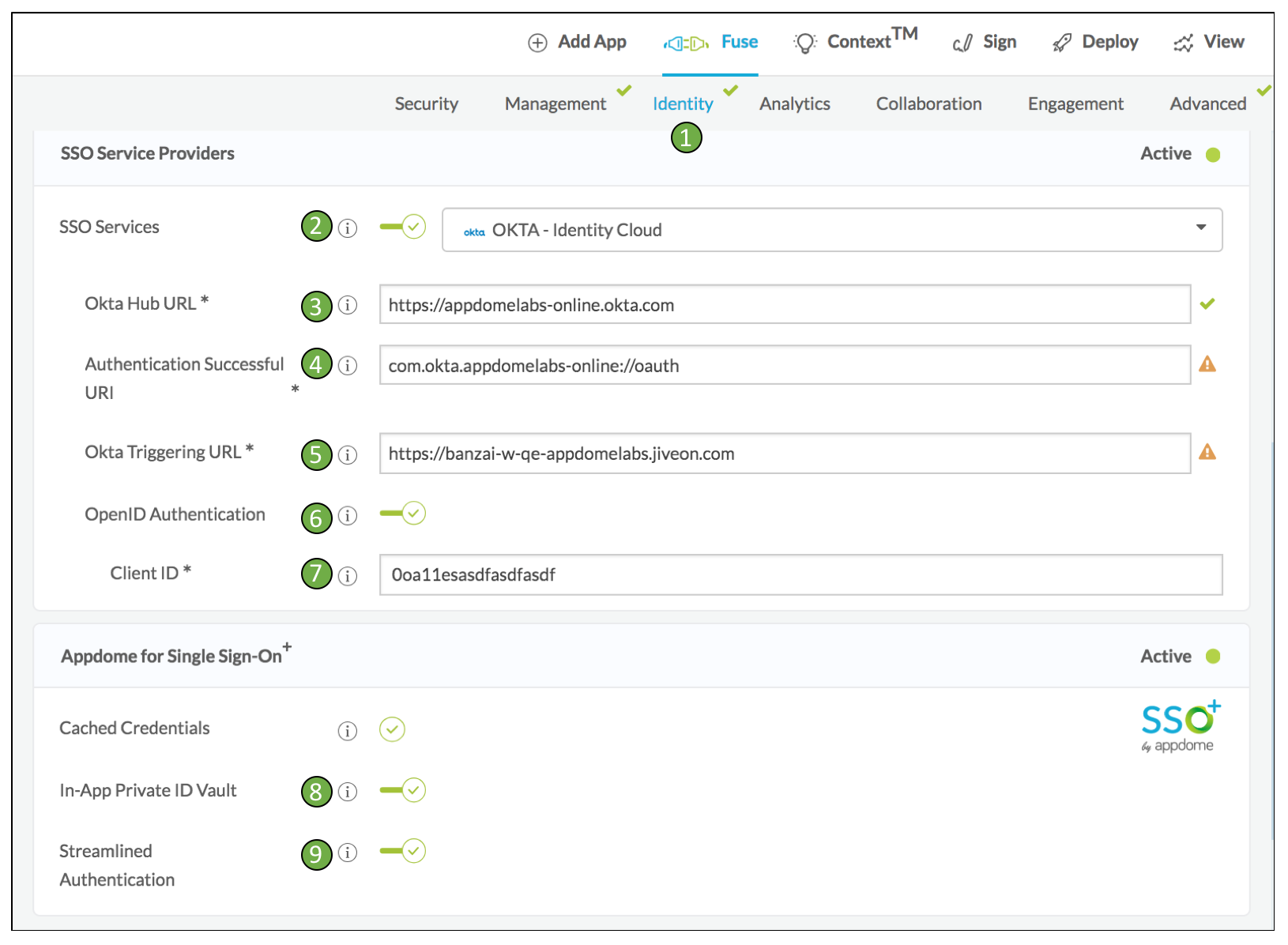 Customize the App and change App Name
After Fusing your App you will be taken to the Customize for your app
Optionally you can edit the App Display Name, App Icon, App Favicon, Favicon File, and Favicon Position and Custom App Configuration Files




Click Add Context to My App to integrate the app with the MaaS360 SDK and Appdome Advanced App Protection. 
Signing the Fused App
In order to deploy an app, it must be signed. You can sign from with the Appdome platform.  
 
Explanations for how to sign an app using the Appdome platform are available in the following knowledge base articles.
To sign iOS app and/or sign an Android app

To skip the signing process and perform singing on your own, click the Skip button to the left of the Sign button to proceed to the app download section.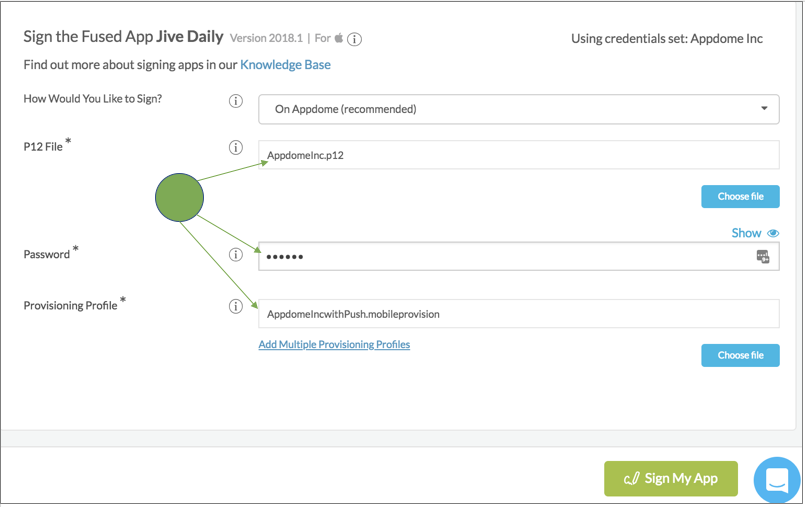 Wow, that's awesome! :-)
Download the Fused App to Deploy it to Mobile Device
Install the Fused app on your mobile device.  

Launch the app with the SingleSignOn experience!  
That's all there is to it!
Thanks for visiting the Appdome knowledge base!  We hope Appdome is living up to our mission of simplifying your mobile integrations.
Our blog on SSO has exciting information for you to read. Check out our blog here!
If you have any questions, please send them our way at support@appdome.com or via the chat window on the Appdome platform. 
Happy Fusing!