ONEShield™ by Appdome combines the company's existing app hardening features, among them anti-tampering, anti-debugging and anti-reversing protections, with the power of new technologies that include TOTALCode™ Obfuscation, encrypted strings and preferences, and other features — making Appdome the single most comprehensive solution to protect mobile apps.
ONEShield by Appdome is added during Fusion in all cases. Whether you are Fusing an app with the Appdome Mobile Security Suite, an EMM SDK, or an Identity SDK, Appdome's ONEShield protection is added to your app. 
The app you are Fusing on Appdome can be built with any tool such as xCode for iOS and Android Studio using any mobile development frameworks such as Xamarin, Cordova, and React Native. 
Fuse Apps with ONEShield by Appdome
When Fusing with Appdome Security, an EMM SDK, and/or an Identity SDK, you will see a ONEShield™ by Appdome section. 
Click to expand ONEShield™ by Appdome
View and/or select the ONESheid options that will be integrated into the app without you having to write a single line of code. With ONEShield your app is enabled with:
TOTALCode Obfuscation – Appome obfuscates the entire app binary of a Fused app. It protects workflows and business logic across the binary, without the need to code or expose source code.
Encrypt Strings and Resources – Appdome removes the last option for hackers to reverse engineer an app by encrypting all the Fused apps' constants, strings and run-time information.
Encrypt In-App User Preferences – Appdome encrypts preferences such as username, email, contact information and other Personal Identifiable Information (PII) data that are otherwise stored "in the clear" inside an app.
Anti-debugging – Appdome prevents anybody from debugging a Fused app.
Anti-tampering – Appdome protects a Fused app from being changed or modified by anyone.
Anti-reversing – Appdome encrypts key logical elements and resources such as methods, strings and assets to make reverse engineering of a Fused app impossible.
As shown in the following picture, many of the ONEShield options are always enabled for protection of your app. For TOTALCode Obfuscation, encrypt strings, resources, and in-app preferences, you will need to enable the options.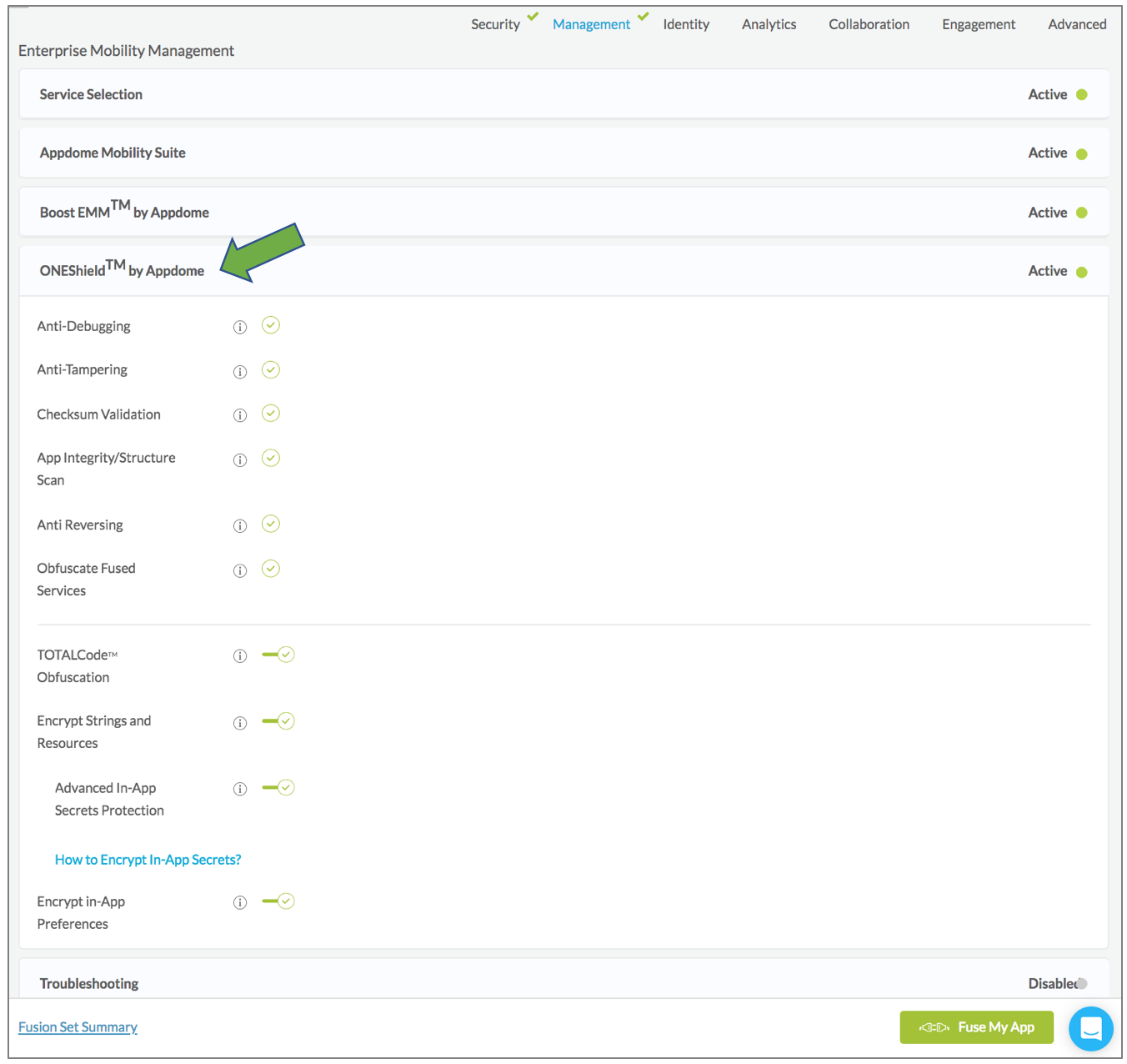 After you have made your selections, click Fuse My App and in about 20 - 40 seconds your app will be protected with ONEShield. Pretty awesome! 
Continue the flow to add Context, Sign, then deploy your app. That's all there is to it! :-)
Thanks for visiting the Appdome knowledge base!  We hope AppFusion is living up to our mission of simplifying your mobile integrations.  If you don't already have an account, you can sign up for free.  Happy Fusing!  
View more information in the Appdome Mobile Suite Datasheet here.