The App Library is a list of many apps that anyone can easily add to their My Apps library and Fuse with SDKs.  You can add apps to the Appdome Workbench Catalog if you have an Appdome Ideal or Extended account with an Appdome App Publisher license! 
Steps for Adding Apps to Appdome App Library
To get started you will need an App Publisher license.  You can contact Appdome to get this access on your account.  With an App Publisher License you can publish an app to the App Library which can be viewed by all Appdome users.
Add your iOS (IPA) or Android (APK) App to Appdome
1. Click the dropdown on the top right of the page and select App Library Settings.
2. Then you can drag or browse for the app file you would like to add to the App Library.
3. Next, you can edit and enter the following information:
Added By: <up to 256 characters>
Description:  <up to 3000 characters>
Release Notes: Browse for file or link URL
4. Specify App Preferences to:
Make the app available to - specify whether only the publisher (Only me) or all users on Appdome (Everybody) can view the app in the App Library. Use Only me when testing the App Publishing service. 
Gate the app by a promo code - This is a text entered here and provided to users in order for them to be permitted to upload the app from the App Libary to their account. Without the promo code, users on the platform with an Extend or Ideal class account will be permitted to upload the app to their account. 
Click List


Your app is now added to the Apps Library! 
If you ever want to edit or change the settings you added this app with you can always access it under My Listed Apps.  This is the same location you can go to for deleting the app from the Apps Library.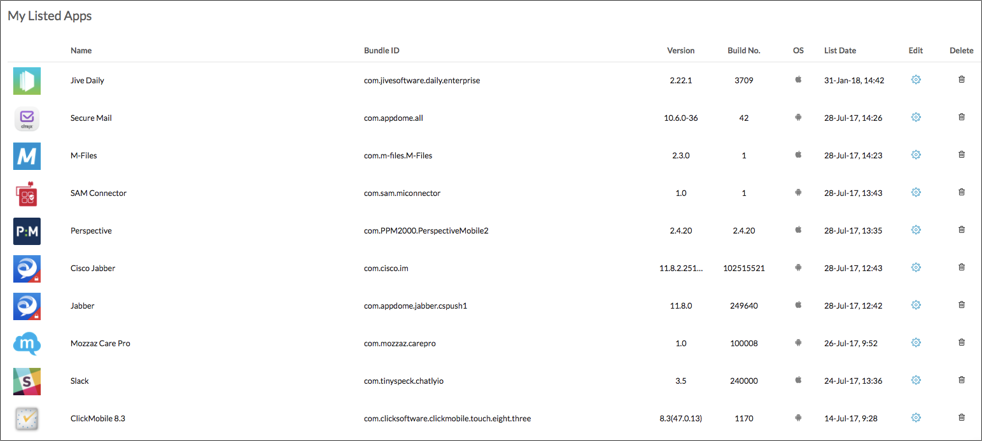 Thanks for visiting the Appdome knowledge base!  We hope Appdome is living up to our mission of simplifying your mobile integrations.  If you don't already have an account, you can sign up for free.  Happy Fusing!