When you've successfully uploaded your App to the App Library, the App Publisher is presented with a set of App Configuration options. This is where the app listing information is contained and controlled by the ISV. Information in the App Configuration options include: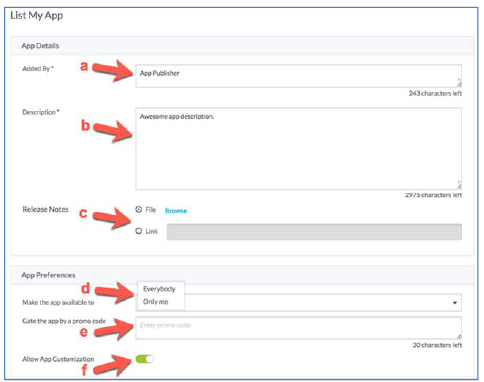 a. The listing company name.
b. A description of the app functionality/features. By default, this information will be imported from the Apple App Store and/or the Google Play Store if available.
c. Release notes for the app can be added either by browsing and adding them as a file attachment or by providing an URL.
d. The uploaded app visibility can be defined as:
Only me – This option will make the uploaded app visible only to the Appdome's App Library of the app publisher. This is used for testing and to make sure that the app is listed with the needed information.
Everybody [Disabled] – This option will make the uploaded app visible to all users of the Appdome's App Library.
Note: The Everybody option is disabled by default and will only be enabled upon request.
e. A promo code can be created and provided to customers or prospects to gate who can upload the app from their Apps to their personal App Library.
f. By default, customers who add apps from the Library can customize apps by changing the app bundle ID, app display name, app version, configuration file, and app icon. Turning this option off will disable the customization of the app on Appdome.
For more information on Appdome for App Publishers Service please visit this resource.  
Thanks for visiting the Appdome knowledge base!  We hope AppFusion is living up to our mission of simplifying your mobile integrations.  If you don't already have an account, you can sign up for free.  Happy Fusing!