With an Appdome "Publisher" account, a user can upload apps to the App Workbench™ in the same way users upload apps to perform mobile integrations on Appdome. Any app made available via the App Workbench will be listed and displayed on Appdome.  Appdome customers can access ISV apps in the Workbench, browse, search, and select their app of choice. From there, customers can click a button to add an app to their private App Library. The app can then be Fused with any service available on Appdome. 
Select "App Workbench Settings" from the top of the right menu of the Appdome page.



From the App Workbench Settings, there are three options available for listing an app in the App Workbench: 
Drag the app into the desired area
Browse for the app
Browse for an existing app in your Appdome App Library
Note: When uploading an app for option (a) and (b), Appdome will check the app's validity (i.e. tampering, malware, etc.). If an issue is found, the uploading process will be paused and the user will be alerted.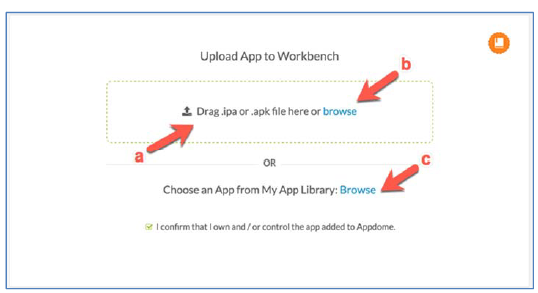 3. Once an app is selected from one of the above options, the listing process to the App Workbench will begin.

Here is a link to more information on App Integration.  
Thanks for visiting the Appdome knowledge base!  We hope AppFusion is living up to our mission of simplifying your mobile integrations.  If you don't already have an account, you can sign up for free.  Happy Fusing!