Appdome has been busy over the last year giving you new features, new capabilities, and new SDKs!
Did you hear we also won the Best of VMworld 2017!!! Here's the quote: "This product allows mobile app ISVs and enterprise developers to easily integrate management, security and other SDKs from multiple EMM vendors."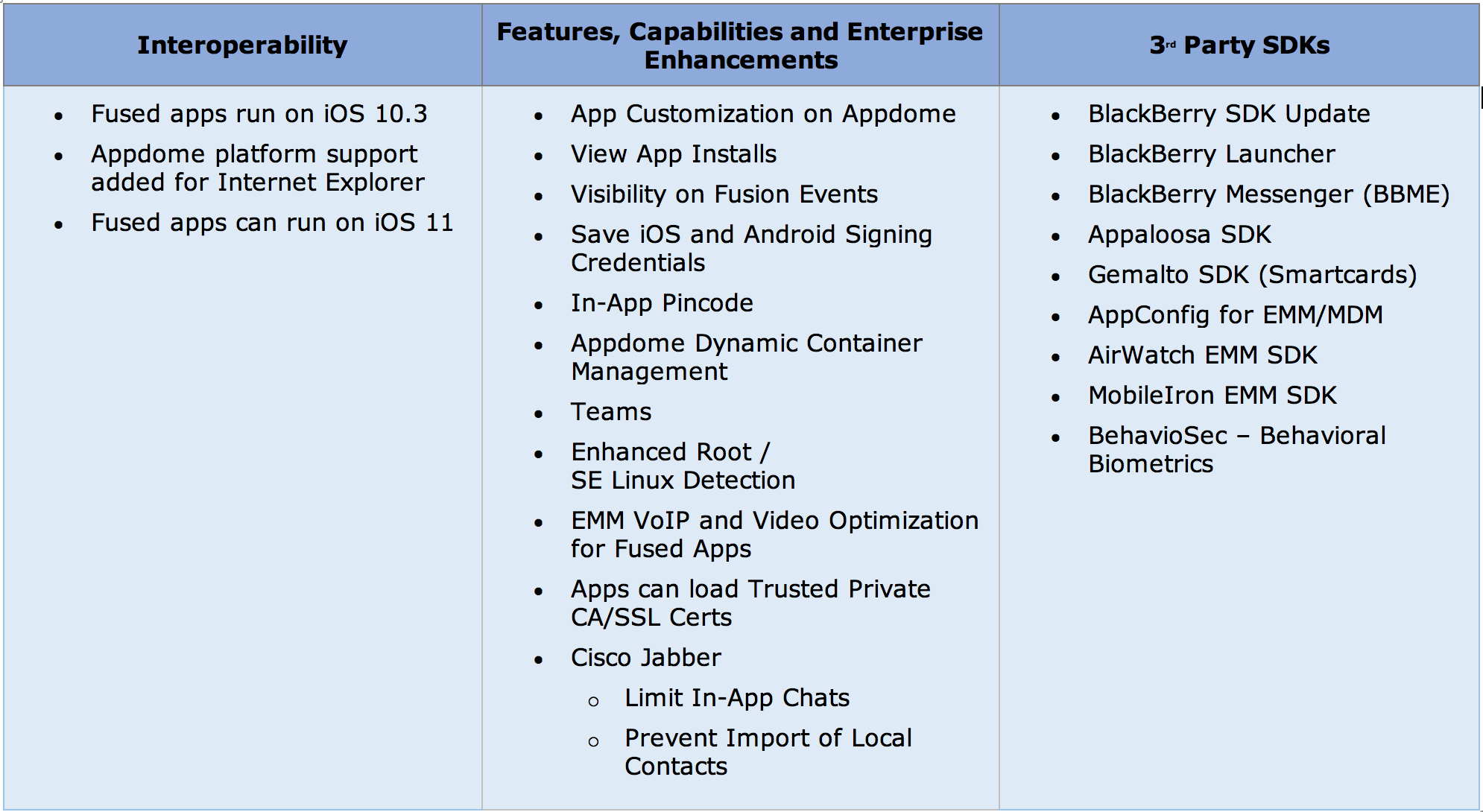 Ineroperability
Appdome platform support added for IE 11 Fused apps run on iOS 10.3
In late March when Apple released their new iOS version 10.3, Appdome released an update adding interoperability for Fusing apps to run on iOS 10.3. 
As a SaaS platform, Appdome supports IE 11.
Appdome strives to make its platform available to all users, including support for multiple browsers.
Features and Capabilities
Customize App Settings on the Appdome platform
Appdome added the ability to modify App Bundle ID, App Display Name, App Version, and App Icon for apps added to the App Publisher Service and for SDK Integration. Read on…


Offering more visibility into Fusion Events and Fused Apps!
You can now view and search activity logs so you can get the "who, what, and when" for Fusion tasks started and completed, and see when Fused apps are installed on demand.  We also added a greater number of fusion events, so users get a bit more "behind the scenes" each time they click "Fuse my App." Next, Ideal users get data on the number of Fusion Installs. Details Here!


Enhanced EMM VoIP and Video App Support
Now, Appdome enables VoIP and video apps to work seamlessly with EMM services. Check our blog!
In-App Pincode
Add In-App Pincode or Fingerprint access to your app within seconds. Protect your privacy and prevent anyone from getting access to your personal data.
Appdome Dynamic Container
Appdome enhances security and optimizes performance for apps Fused with EMM SDKs by using Dynamic Container Management, a set of file system encryption and obfuscation techniques that encrypt all the files created after the EMM is done provisioning, using keys dependent on the EMM secret tokens.
Secure Mobile Access to Internal Servers using an SSL Certificate Signed by a Private CA
Use AppFusion to include Private Certificate Authority (CA) certificates within mobile apps to validate and enable secure connections between the mobile app and private/internal servers.
Teams! mobile integration collaboration tool that enables admin users of the Appdome Platform to delegate segments of the Mobile Integration Workflow to other users, either for a defined period of time or for a specific functional decision point. Read more..
Enhanced Root/ SE Linux Detection Appdome has specific checks for root detection and does not allow the app to open on a rooted device when this protection is enabled. Appdome's root detection is not susceptible to the Magisk root (and root hiding). Click for more details
3rd Party SDKs
EMM/MDM solutions
With AppFusion, you can combine the Blackberry SDK / Mobile Iron SDK / Airwatch SDK without having to write a single line of code, prep the app or change any settings.
Appdome for BlackBerry – enters the Launcher
Enhancing the mobile experience and increasing productivity with automated multi-service implementations. Check it out!
Appaloosa SDK
Appaloosa helps the mobile and digital team build, test and deploy their mobile apps with its simple and secure enterprise App Store. Customers can fuse the Appaloosa SDK with its full functionality using Appdome, rapidly, efficiently, and easily.
Mobile Identity service category added on the Appdome Platform!
Enables the ability to securely integrate mobile identity SDKs, including rich feature sets like advanced authentication and biometrics to new and existing mobile apps.

In this category you can now find the BehavioSec SDK, enables to learn how each user behaves and confirm identities in a highly accurate manner.
Fuse your apps with the full capabilities of additional AppConfig
With AppConfig settings enabled,  you can upload your app to the Apple App Store, Google Play, and use your favorite MDM solution to centrally manage the AppConfig settings on your managed devices.
Wants to know more? Read about it on our blog!


Gemalto SDK
Appdome adds the Gemalto SDK for Identity Management! Now you can integrate your app with Gemalto to validate user Identity with Smart Cards! Click here for more!
Blackberry Messenger
Appdome adds BlackBerry Messenger SDK for Collaboration! Now you can fuse your app(s) with BlackBerry Messenger integration to greatly increase collaboration capabilities!
Check out Integrate Mobile Apps with the BBM Enterprise iOS SDK
Airwatch EMM SDK With Appdome, you can combine the Airwatch SDK without having to write a single line of code, prep the app or change any settings. As of the date of this article, the Airwatch SDK does not support Container. The capability to provide both services on a single app is available only on Appdome. Check how..
Mobile Iron EMM SDK Mobile Iron has joined our list of 3rd Party EMM/MDM SDKs. Use Appdome to integrate the Mobile Iron EMM SDK. 
Happy to share all of this with you, Keep tracking :)