What is Appdome for Teams?
Appdome for Teams is a social workplace model for Dev-Ops class mobile integration. The new capabilities allow participants to work together to complete mobile integration projects efficiently, all without needing to code. Appdome for Teams ushers in an entirely new class of continuous integration and efficiency in integrating services to apps and getting the best integrated mobile experiences into the hands of users.
How does Appdome for Teams Works?
Groups share the Appdome workflow, enjoying combined workspaces, progress and approvals together. Individual team-members "assign-and-select" responsibilities within Appdome's mobile integration workflow. This allows teams to form and change naturally and allows members to perform the roles that each regularly plays in getting apps in the hands of users. Enterprise customers, for example, can to bring apps to the workplace leveraging existing security, mobility, and LineOfBusiness responsibilities.
Below is an example of how Appdome for Teams can work inside your organization:
Teammate A

creates a team, called "Mobile Apps @ LineOfBusiness," and invites colleagues from across the organization.

Teammate A

selects "upload" as her activity and assigns "EMM" to Teammate B.

Teammate A

uploads the apps she needs for her group or Line Of Business.

Teammate B

 sees the invitation and app uploads that he/she can now add the EMM or security features needed on Appdome (using Appdome's codeless integration technology, called "Fusion").

Teammate C

also invited to the Mobile Apps @ LineOfBusiness Team, selects the "sign" responsibility for himself.

Teammate C

signs the newly integrated app, fused by Teammate B.

Teammate D

 also invited to the team, selects or is assigned "download" and then downloads the app for deployment via the company's enterprise app store.
In this example, everyone works together to get the services the company requires the apps' needs and then into the hands of users.
Step-by-Step Guide to using Appdome for Teams
You can Create a Team at any time.  To create a team, login to Appdome. Directly from your account, and from any step in the workflow, Click the Teams icon and then select Add App (Team) and/or Manage Teams.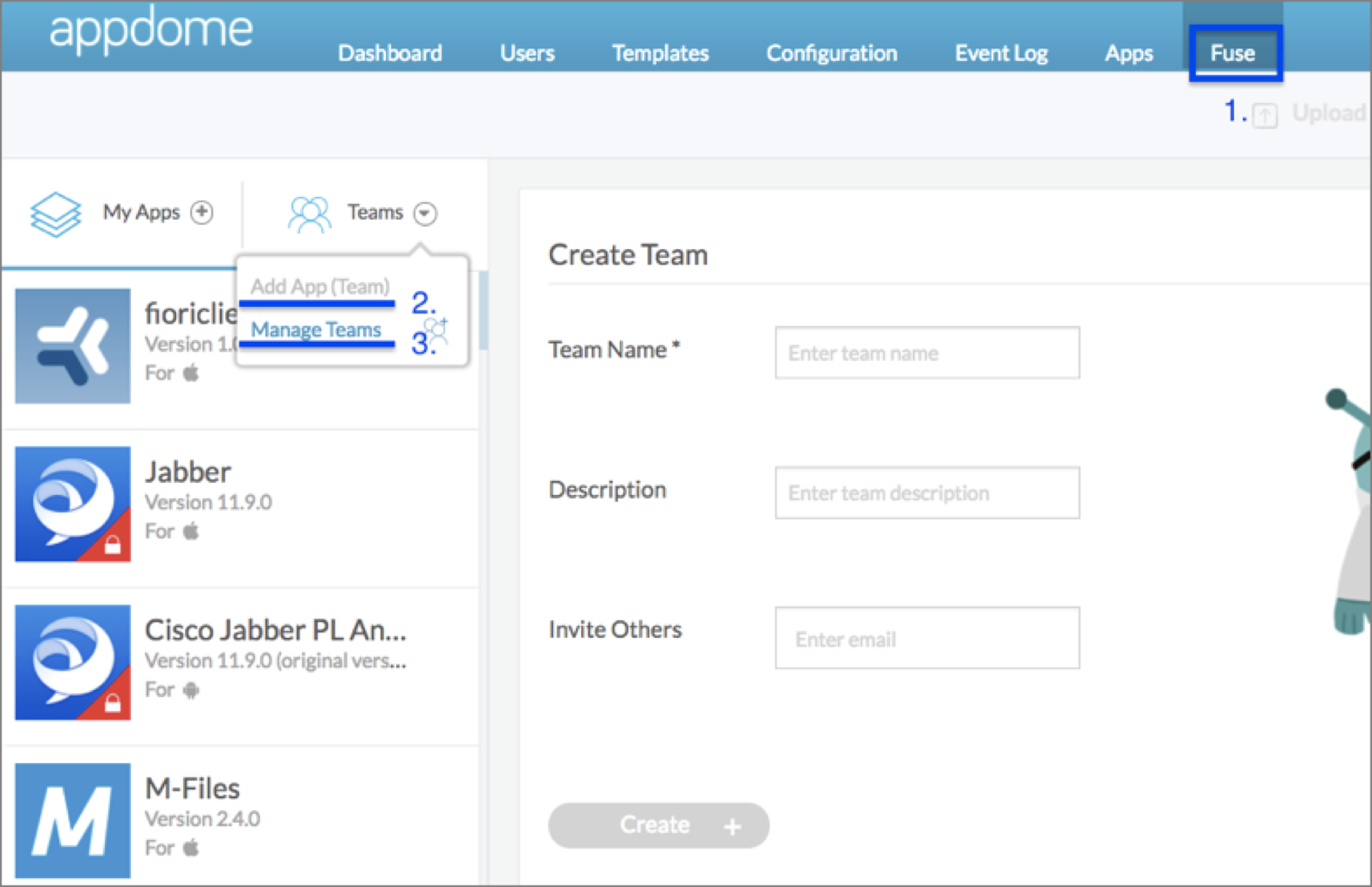 To Create/Add Team, fill in Team Name, Description, and Invite Others.  After filling in Team information click Create.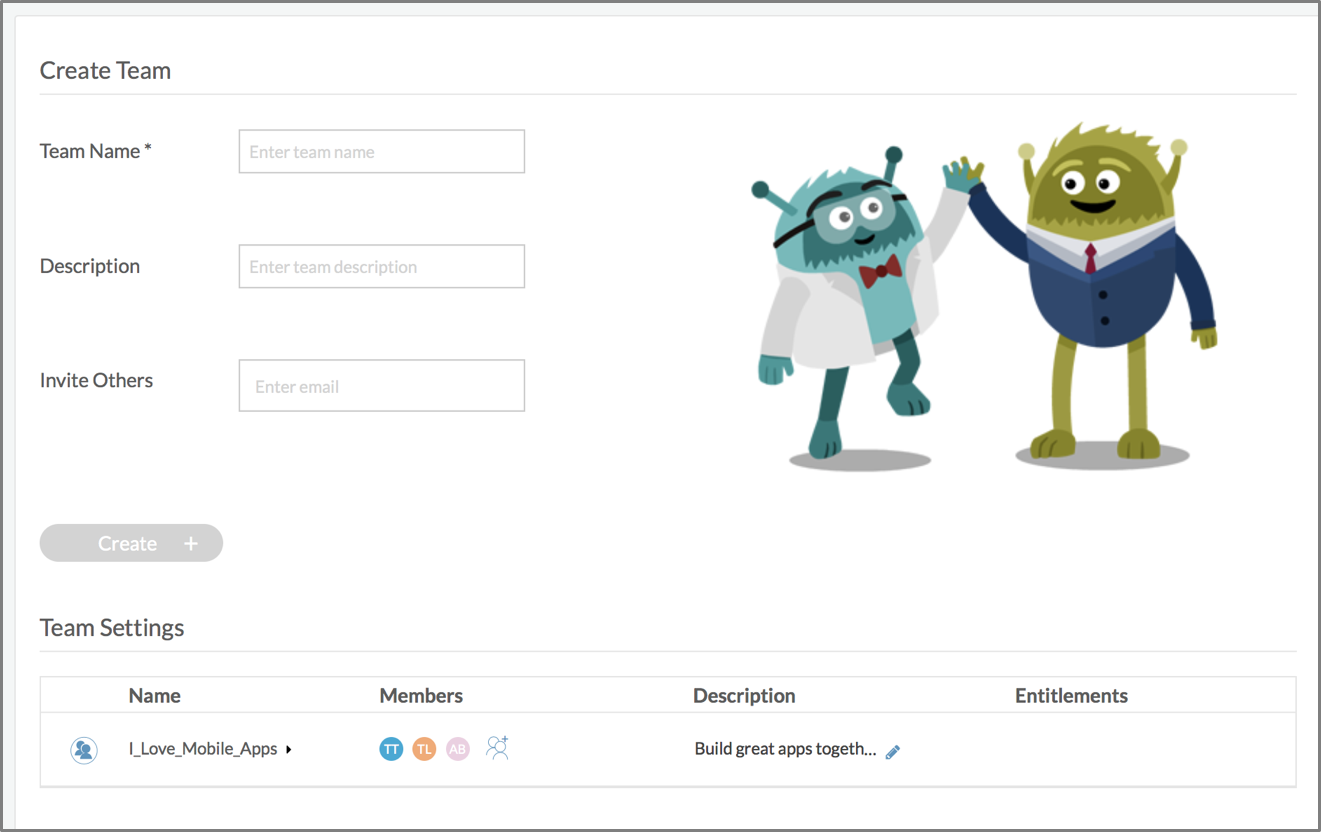 You can manage Teams from Team Settings. This will allow you to edit the Team Name, Members, Description, and Entitlements.

 Invite Users.  Click this icon ->   under Members.  Then enter the Email Address for those you want to be added to the App Team and click Invite.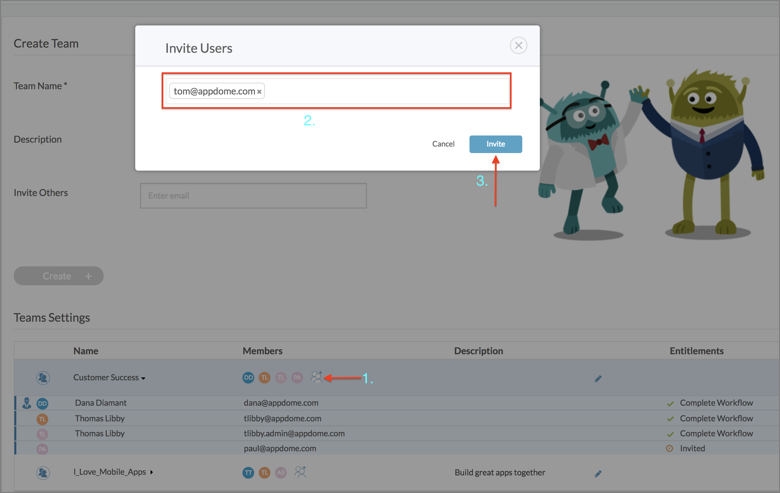 To switch between your individual account and your Team view, simply click the Team Icon and select the Team you want to use. From there, you can Start Fusing.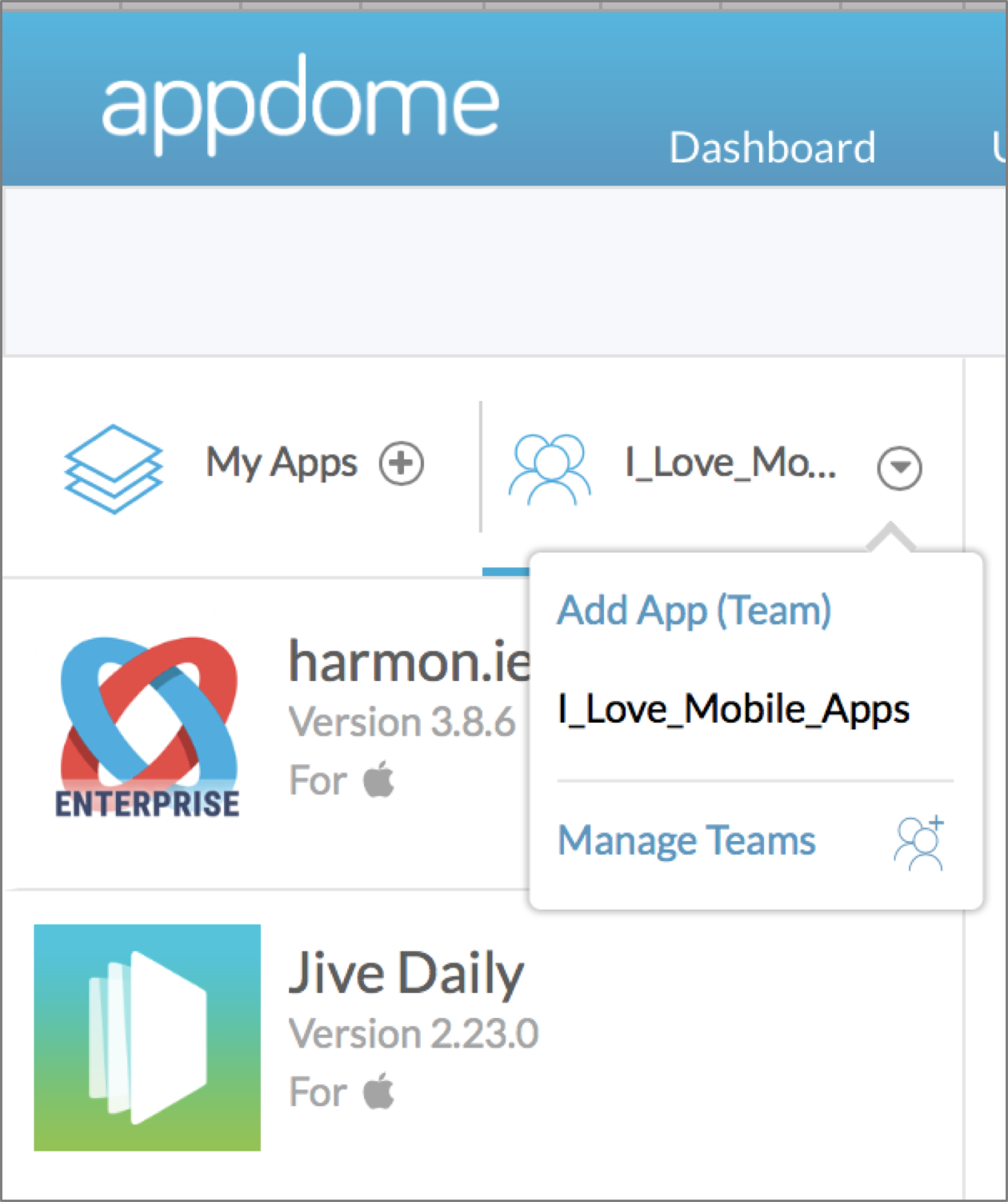 Teams allow individual team members to share the workspace and access the same apps that have been uploaded to individual accounts. To promote an app to the team workspace to make them ready for fusions, click the icon below the app in your account! Teammates don't need to upload the same app(s) that others have already uploaded for Fusion.

When you create Fusion Sets inside the Team View they will automatically become available to all Team Members.

Fusions inside Teams follow the same workflow as in individual accounts. See this knowledge base for more on Appdome's mobile integration workflow.
Shared Context of a Team App will include for all App Team Members the different Fused Builds, changed App Display Name, App Icon, App Configuration and App Setup details on the Team App as seen below.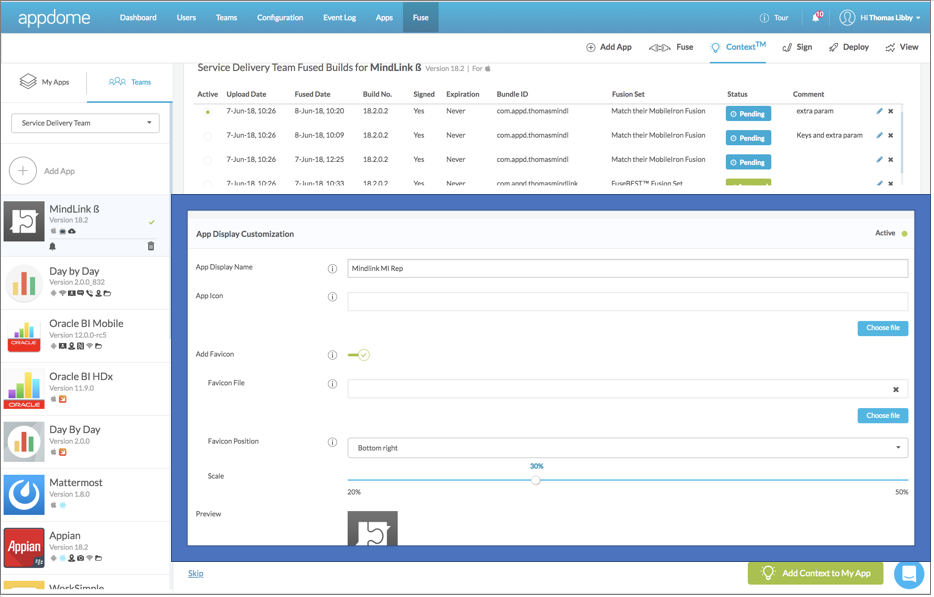 After you have completed Fusing the app:

Anyone on the team that is entitled to sign the app can do so.
Same is true for downloading the app after signing.
Anyone on the Team entitled to do so, can also Approve it for download!
Here is how to approve an app:
Click on Pending under Status 
Select Approve
Enter a comment that tells the rest of the team-members the reason for the approval such as "all policies added, signing completed." Then you are ready to deploy the app.
If an App is Not Approved:

 If you do not Approve an app then it will not be listed for the App Team members until it is Approved.  
Here is a link to more information on App Teams!
Thank you for visiting the Appdome knowledge base!  We hope Appdome is living up to our mission of simplifying your mobile integrations.  If you don't have an account, you can sign up for free.  Happy Fusing!