Every app has a bundle ID and bundle version. The app bundle ID is a string usually resembling a reverse domain like com.appdome.awesomeapp.mobile. The app bundle version is usually in a dotted segment form like 1.0.1.20.
When Fusing an app with the BlackBerry Dynamics SDK, you are required to enter a GD App ID and GD App Version (now called the BlackBerry Dynamics Entitlement ID and BlackBerry Dynamics Entitlement Version). In some cases, the app bundle ID and version can be the same as the BlackBerry Dynamics Entitlement ID and Version, but this depends on whether the app is built in house, or if it is an app from an Independent Software Vendor (ISV).The app you are Fusing on Appdome can be built with any tool such as xCode for iOS and Android Studio using any mobile development frameworks such as Xamarin, Cordova, and React Native. 
1.  These values can be edited while Fusing an App under the Management tab after you select BlackBerry SDK as you EMM Service and edit the GD Entitlement ID and GD Entitlement Version: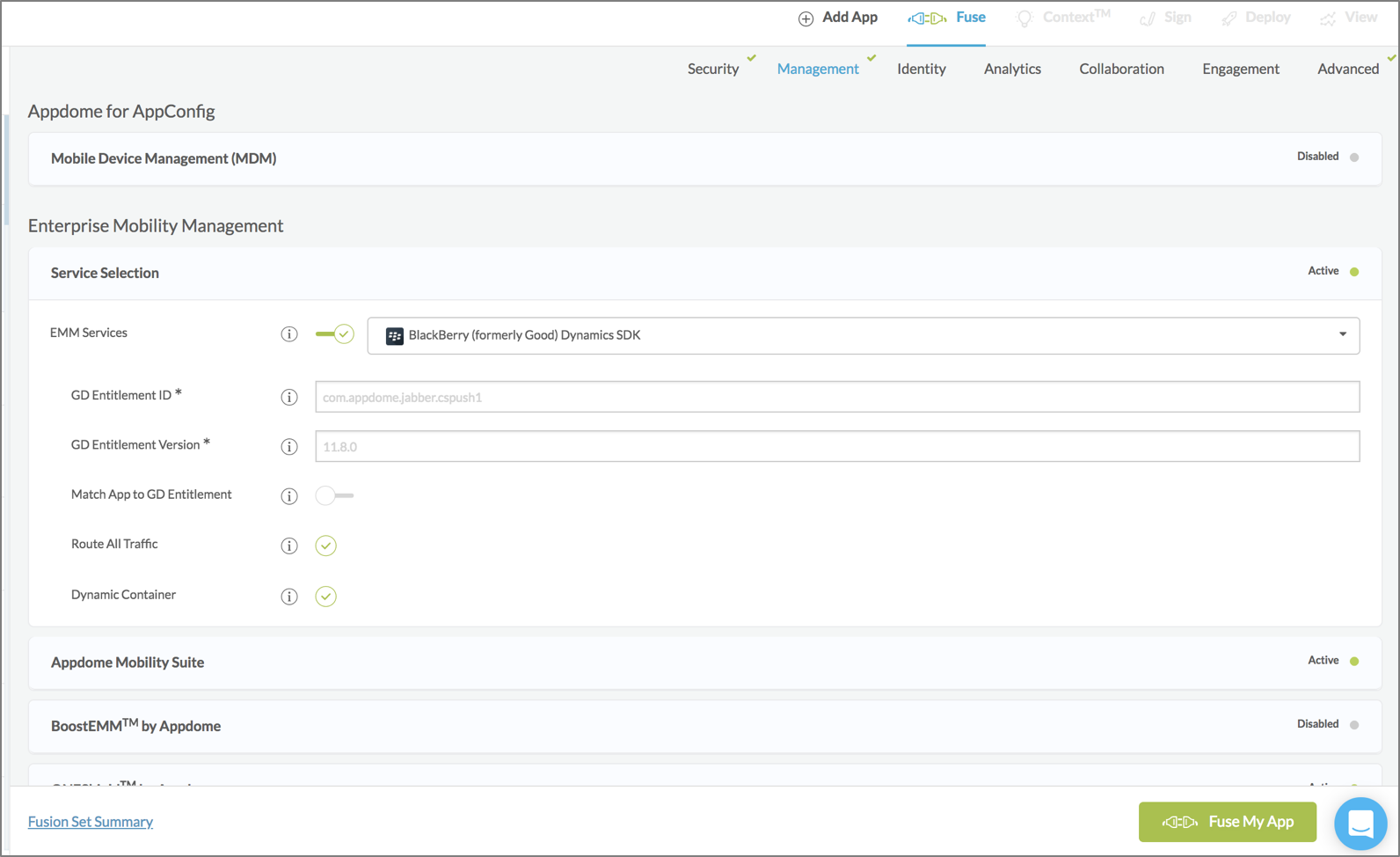 BlackBerry has a great guide explaining the BlackBerry Dynamics Entitlement ID and Version here BlackBerry Dynamics SDK Dev Guide. 
The GD App ID for an app must be unique in the world. If you are using an app from an ISV, every user who owns the app, even from different organizations, will have the same app bundle ID.  For example, Cisco Jabber has an app bundle ID: com.cisco.jabberIM. When a user imports an app into BlackBerry Dynamics Good Control or UEM, the BlackBerry Entitlement ID for an app must be unique in the world. Appdome lets you change the GD App ID (BlackBerry Entitlement ID) in Fusion before uploading the app to Good Control or UEM. This will ensure there are no conflicts. 
For example, when Fusing the Cisco Jabber app, a new GD App ID was entered to ensure it is unique in the world. In this case com.appdome.jabberim is used as shown below (1). The GD App ID just a name to identify the app in Good Control or UEM, so you can use any name you like. By using the reverse domain prefix com.appdome in this example, this app should not conflict with apps uploaded by any other organization or company. That is, no other company should be using com.appdome.  

Note, the GD App ID must be below 32 characters, it cannot have uppercase letters, and it cannot have special characters. Appdome will automatically correct uppercase letters to lowercase if uppercase letters are entered for the BlackBerry Dynamics Entitlement ID.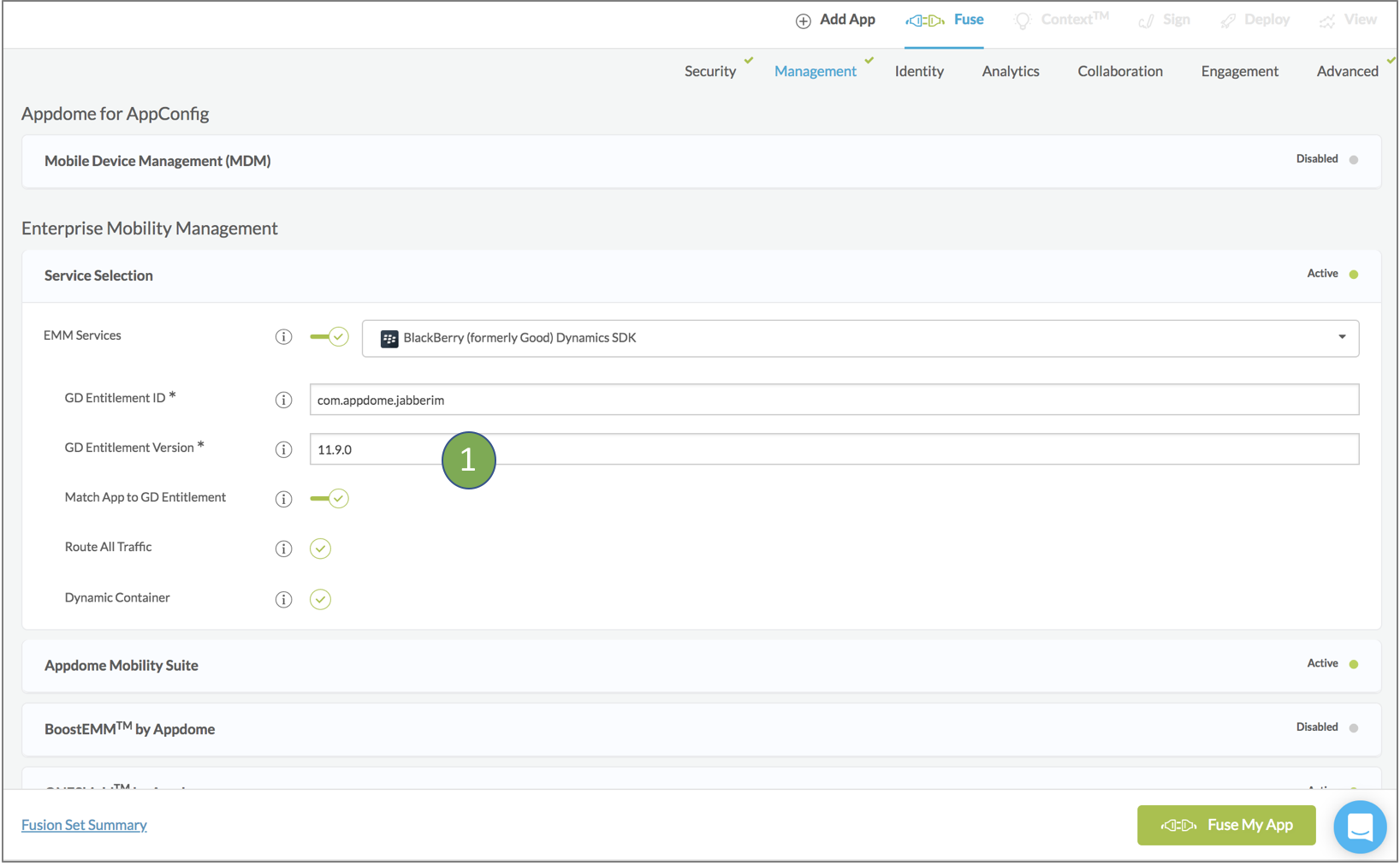 Optionally you can change the GD App Version (BlackBerry Dynamics Entitlement Version).
The GD App Version may contain only digits and dots. It can have 4 or less segments of 4 or less numbers separated by dots.  Leading zeros are not allowed.
Allowed: 1.22.3.333 or 10.22.0.233 or 1.2323.4321.23
Not allowed: 1.02.3.33 or 10.22(mdm).1.2 or 1.2.3.4.5
Note: You cannot use letters and you must use numeric digits.
You can use the same GD App Version as the App Bundle Version if the format is correct. However, some users like to keep the BlackBerry Dynamics Entitlement Version separate from the App Bundle Version so they have control over the versioning. 
Thanks for visiting the Appdome knowledge base!  We hope Appdome is living up to our mission of simplifying your mobile integrations.  If you don't already have an account, you can sign up for free.  Happy Fusing!  
For more information on Appdome for BlackBerry please visit this resource.