Overview
With Appdome's new Collaboration service, customers can enhance any app to experience the enriched collaboration capabilities of BlackBerry's BBM Enterprise SDK.  With the click of a button, you can integrate your app with BBM Enterprise SDK in minutes.
Find more information in our blog!
Prerequisites
In order to integrate an app with the BBM Enterprise SDK, you will need to:
Set up Google Firebase to connect an app to a specific G-Suite user database.
With this account, you will get a client ID needed to generate a BBM Enterprise Domain, and you must download a .plist file that is used in the Fusion process to configure the app to work with your Firebase G-Suite.
Generate a BBM Enterprise Domain. You will need this domain in the configuration steps for Fusion. 
Integrate Your App with the BBM Enterprise SDK
To Fuse your app with the BBM Enterprise SDK, follow these simple steps.  
1.   Upload App to the Appdome platform
You will need to have your app binary available to begin. The app you are Fusing on Appdome can be built with any tool such as Xcode, using any mobile development frameworks such as Xamarin, Cordova, and React Native. 
If you have purchased an EXTEND or IDEAL account on Appdome, you have access to the App Publisher Catalog when importing apps. You can also request a trial.
To begin, click Add New App
Upload new app or choose an app from the Catalog and click Add to My Apps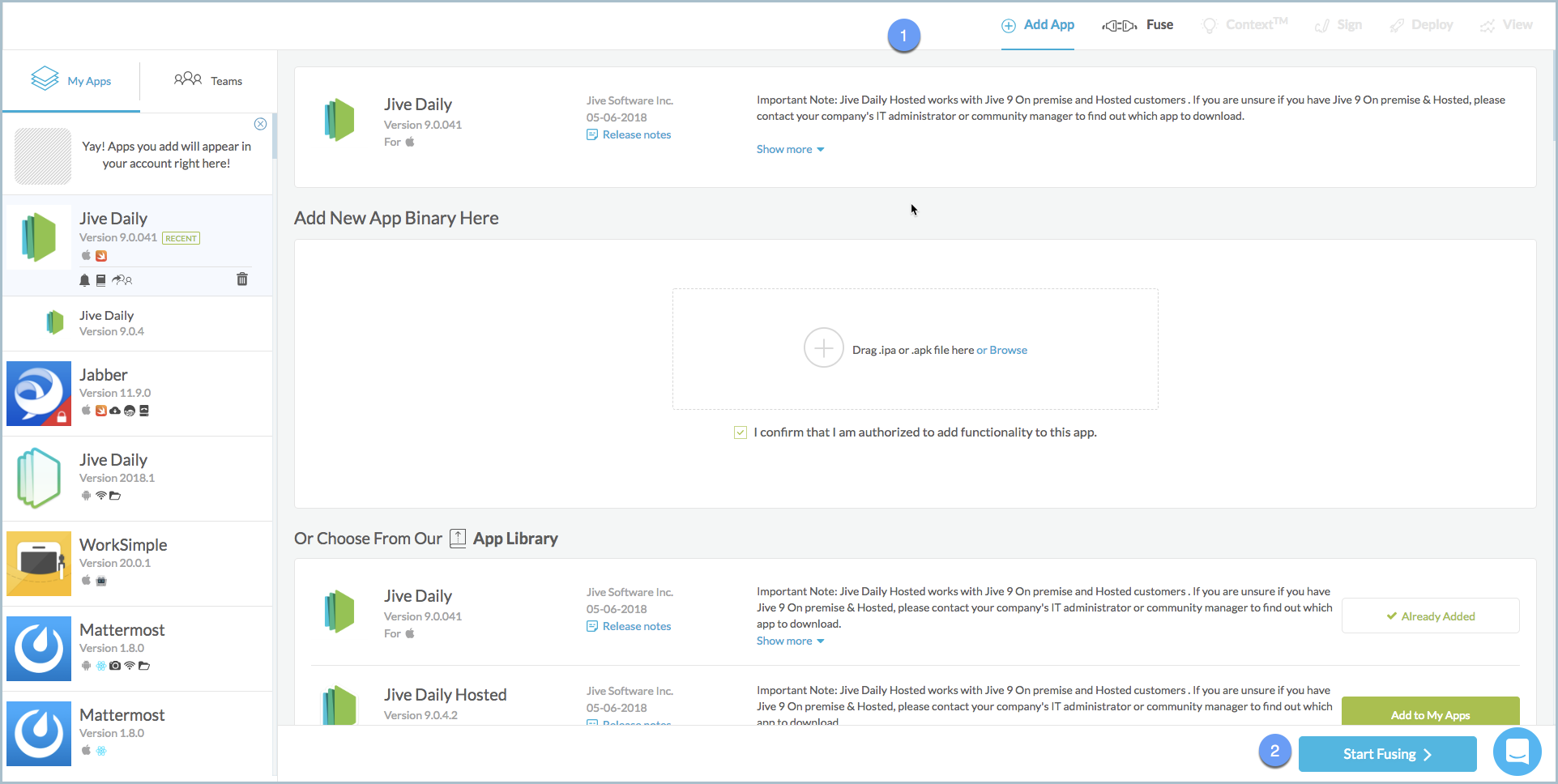 Once you find the .ipa file you intend to use, simply select it. The file will be automatically added to the Appdome platform.  Once complete, you'll see a success message and automatically moved to the next step in the workflow.
2.   Get ready to make your Fusion selections 
After your app is uploaded to the Appdome platform, you are ready to make your fusion selections from the Fuse tab of the workflow.
 
Click Start Fusing
3.   Select Collaboration under the Fuse tab
To add the BBM Enterprise SDK, you'll need to enable Collaboration Services on the Appdome platform. Next, choose the BBM Enterprise SDK you wish to fuse to your application – you'll see the Enterprise Messaging by BlackBerry SDK listed in the drop down.  
 
  A. Click Collaboration under the Fuse tab to get to the Fusion Settings.
B. Enable Collaboration Services and Select the Enterprise Messaging by BlackBerry SDK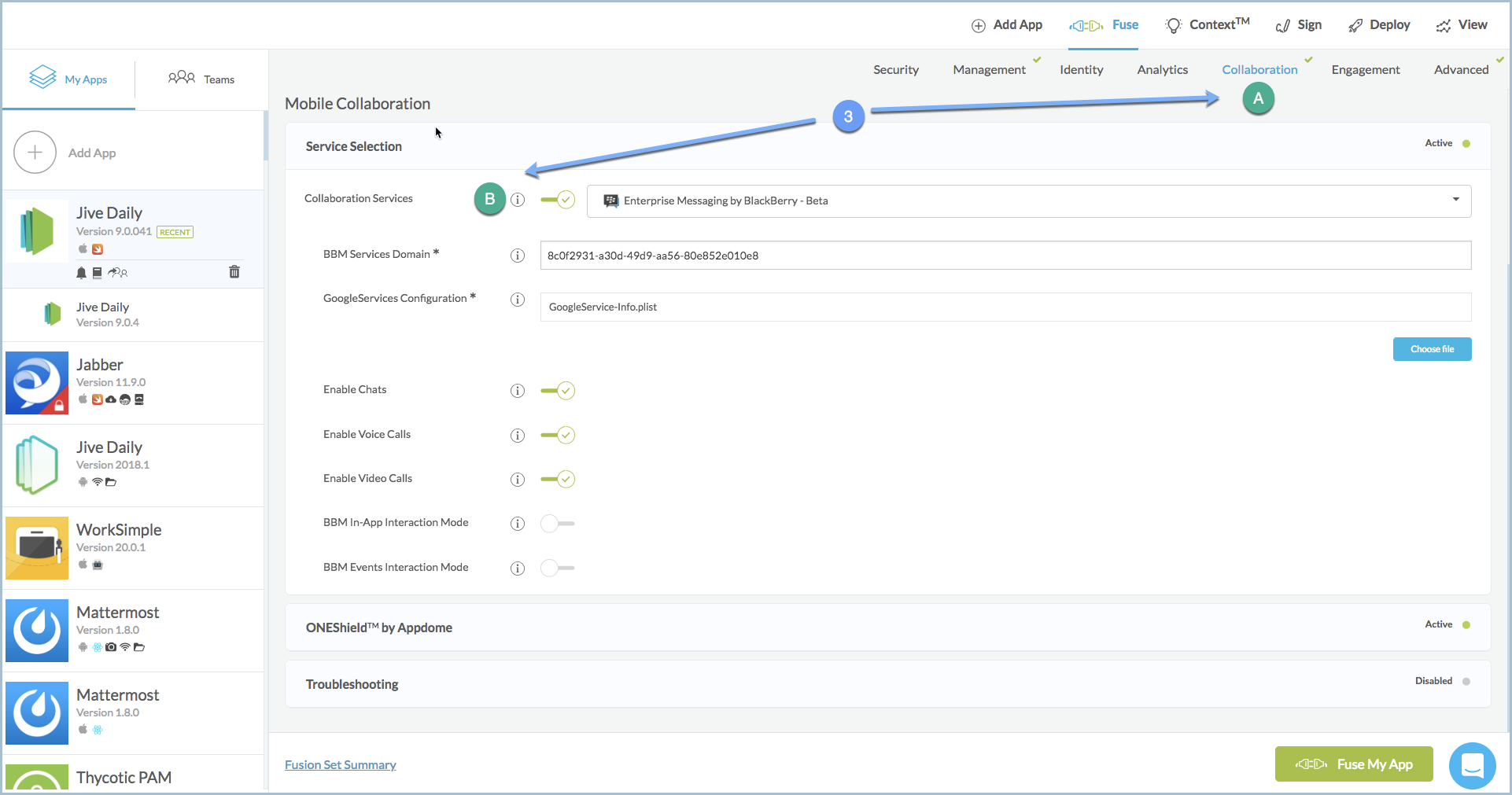 4.   Configure the BBM Enterprise SDK settings
A. Enter the BBM Services Domains - The unique domain key registered with BBM
B. Insert the GoogleServices Configuration - upload your GoogleService-info.plist configuration file
C. You have two options available for configuration. You can configure SDK Settings for BBM In-app Interaction Mode or Configure SDK settings for BBM Events Interaction mode.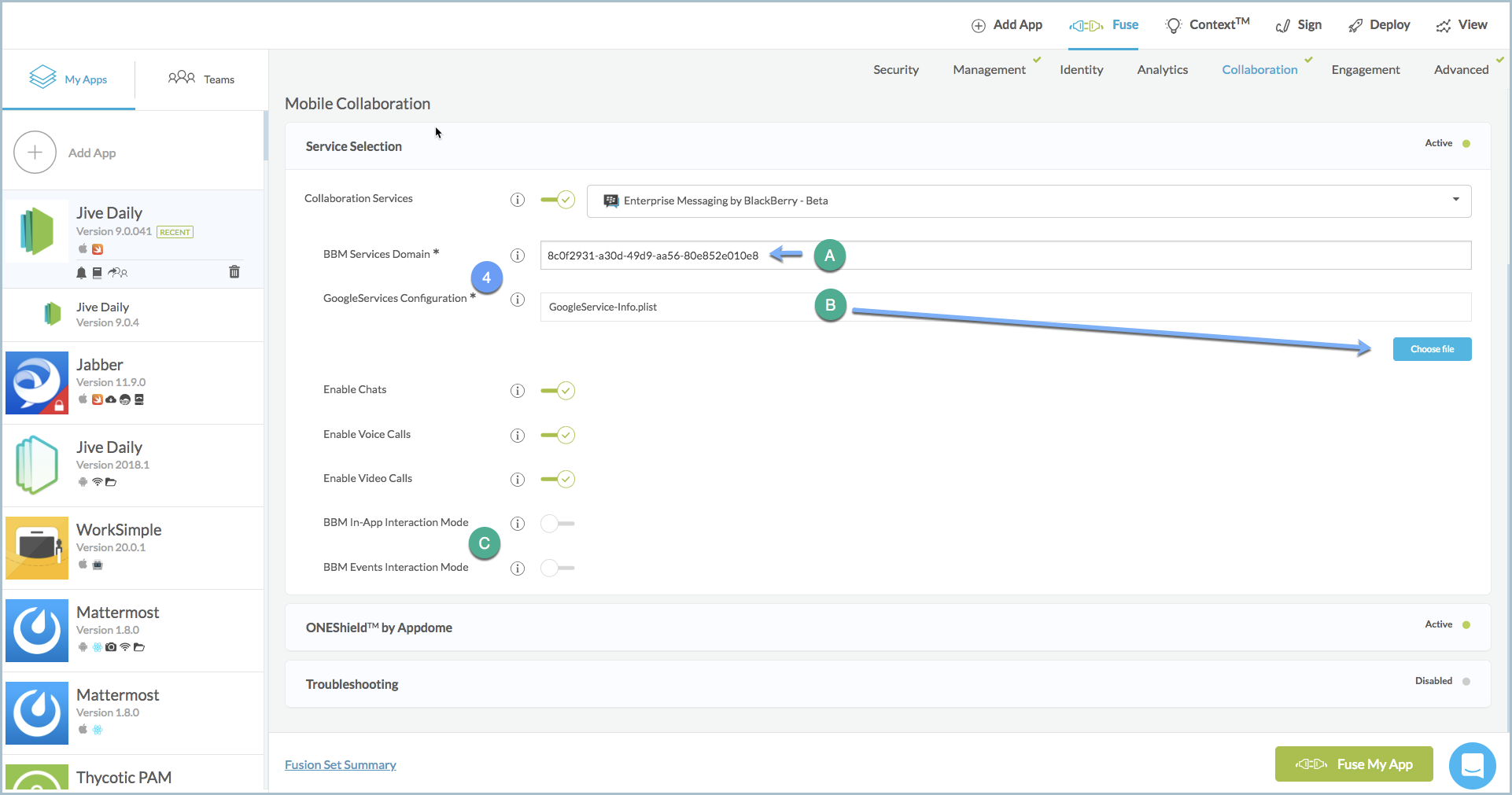 1. Enable In-app Interaction Mode to display built-in BBM UI.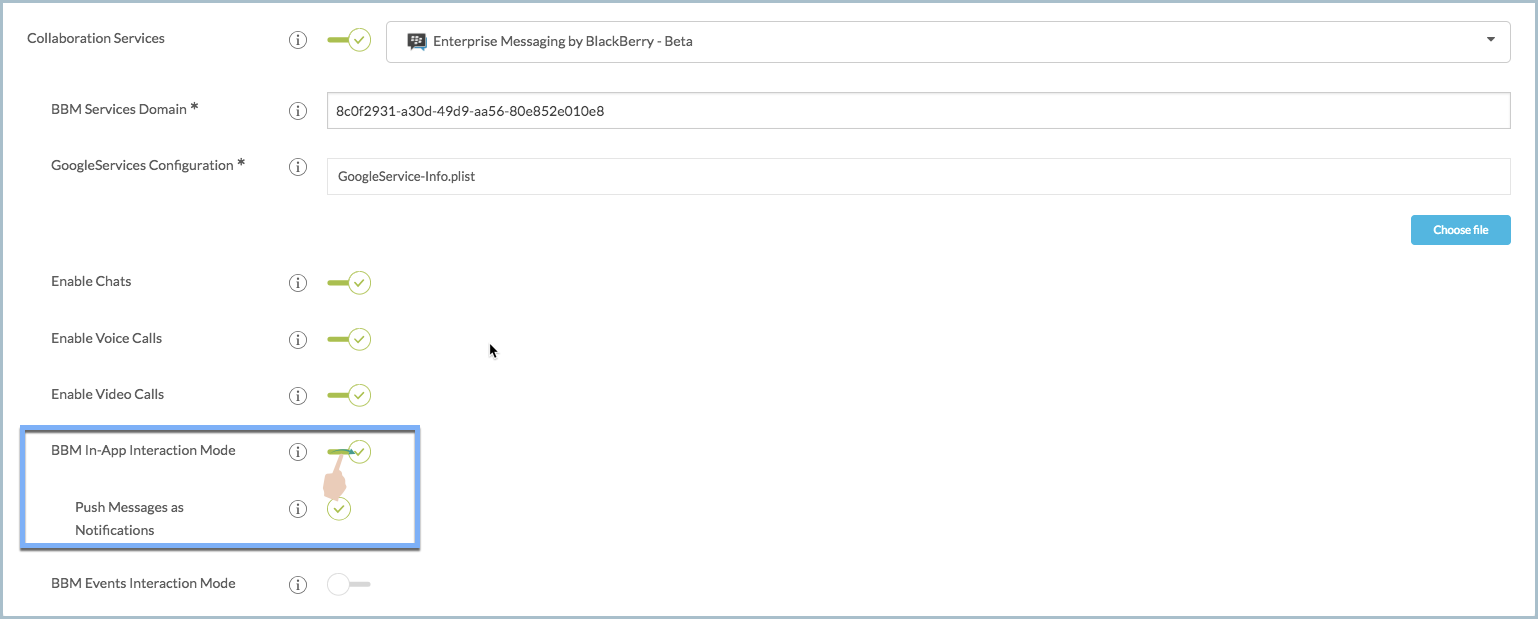 2. Enable Events Interaction mode to follow BBM generated events for in-app interaction
     Click here for How to Follow and Post Events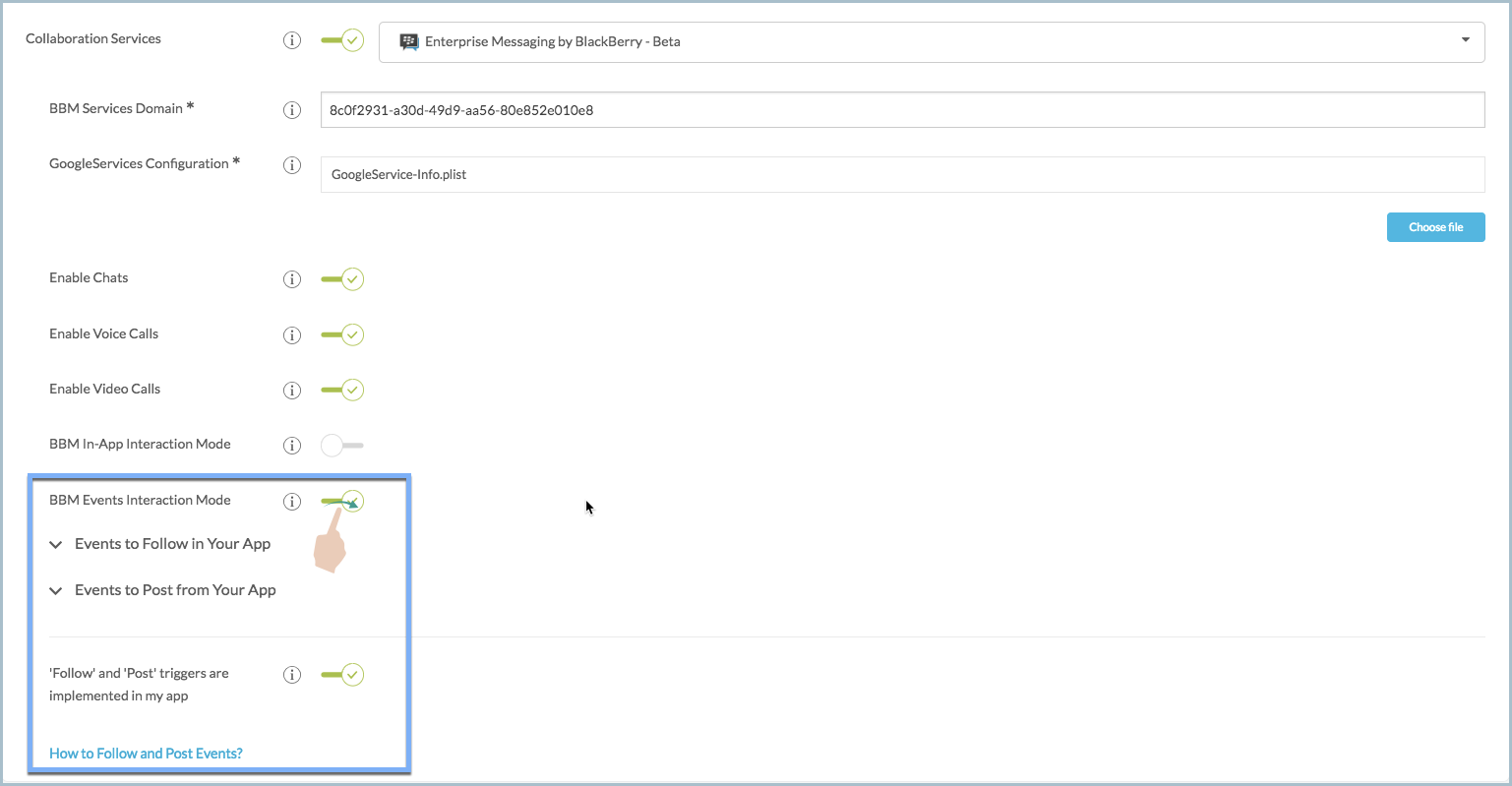 5.   Fuse My App & Add Context
Fuse the App
Click Fuse My App to integrate the app with the BBM Enterprise SDK


NOTE: The Fusion process takes approximately one minute to complete. Wow, that's cool! 
Add context to the Fused App
 After the Fusion process ends, you will be redirected to the Context page.
Optionally, you can edit the App Display Name, App Icon, add Favicon and even custom App Configuration Files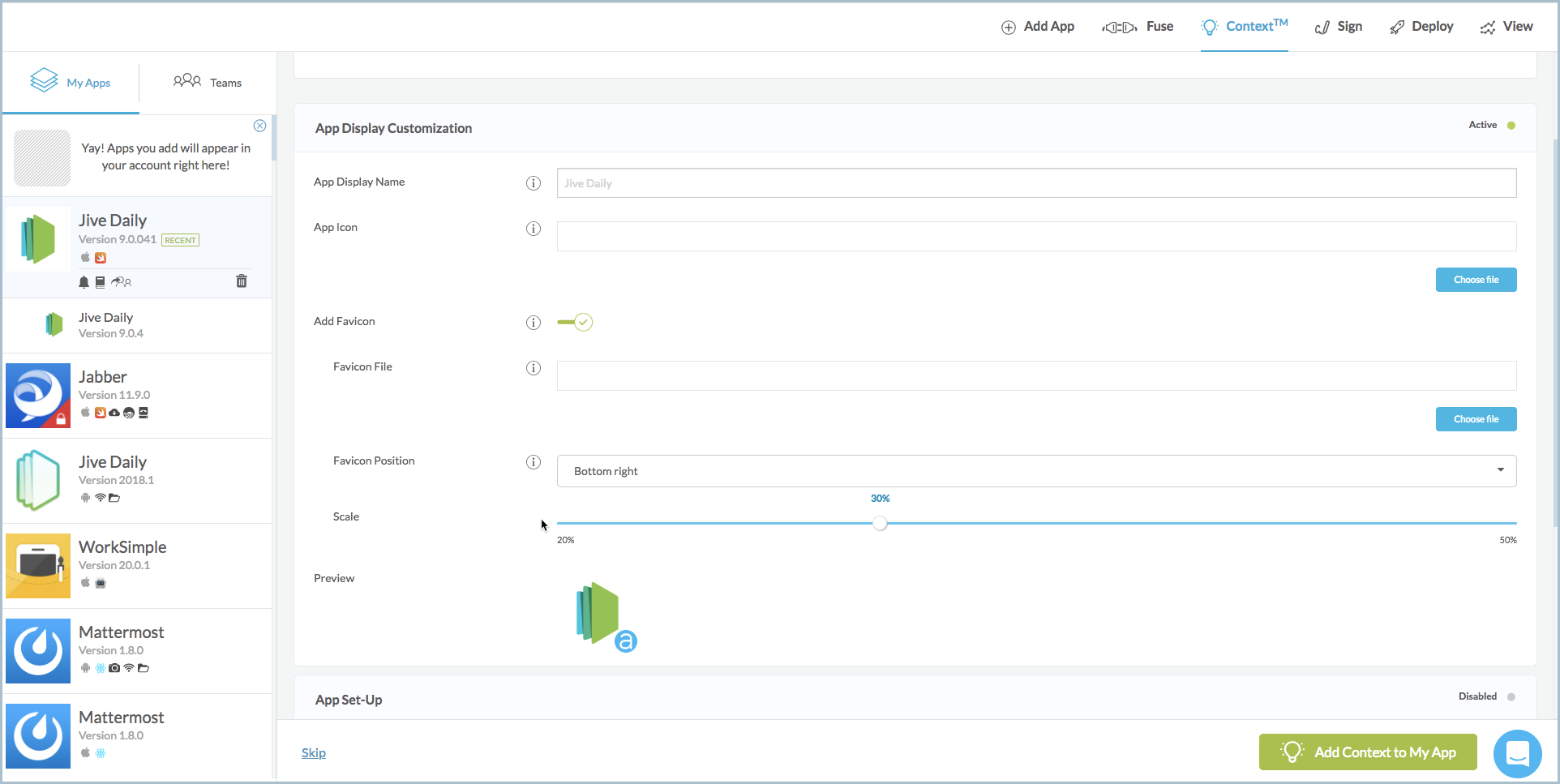 6.   Sign my App
In order to deploy an app, it must be signed. You can sign using your own signing processes by downloading the fused app, or you can sign from within the Appdome platform.  
 
Explanations for how to sign an app using the Appdome platform are available in the following knowledge base articles.

To sign an iOS app:
https://support.appdome.com/hc/en-us/articles/115000880563-Signing-iOS-Apps-on-Appdome-End-to-End
 
To sign an Android app:
https://support.appdome.com/customer/en/portal/articles/2592280-how-do-i-sign-android-apps-on-the-appfusion-platform-
 
To skip the signing process and perform singing on your own, click the Skip button to the left of the Sign button to proceed to the app download section.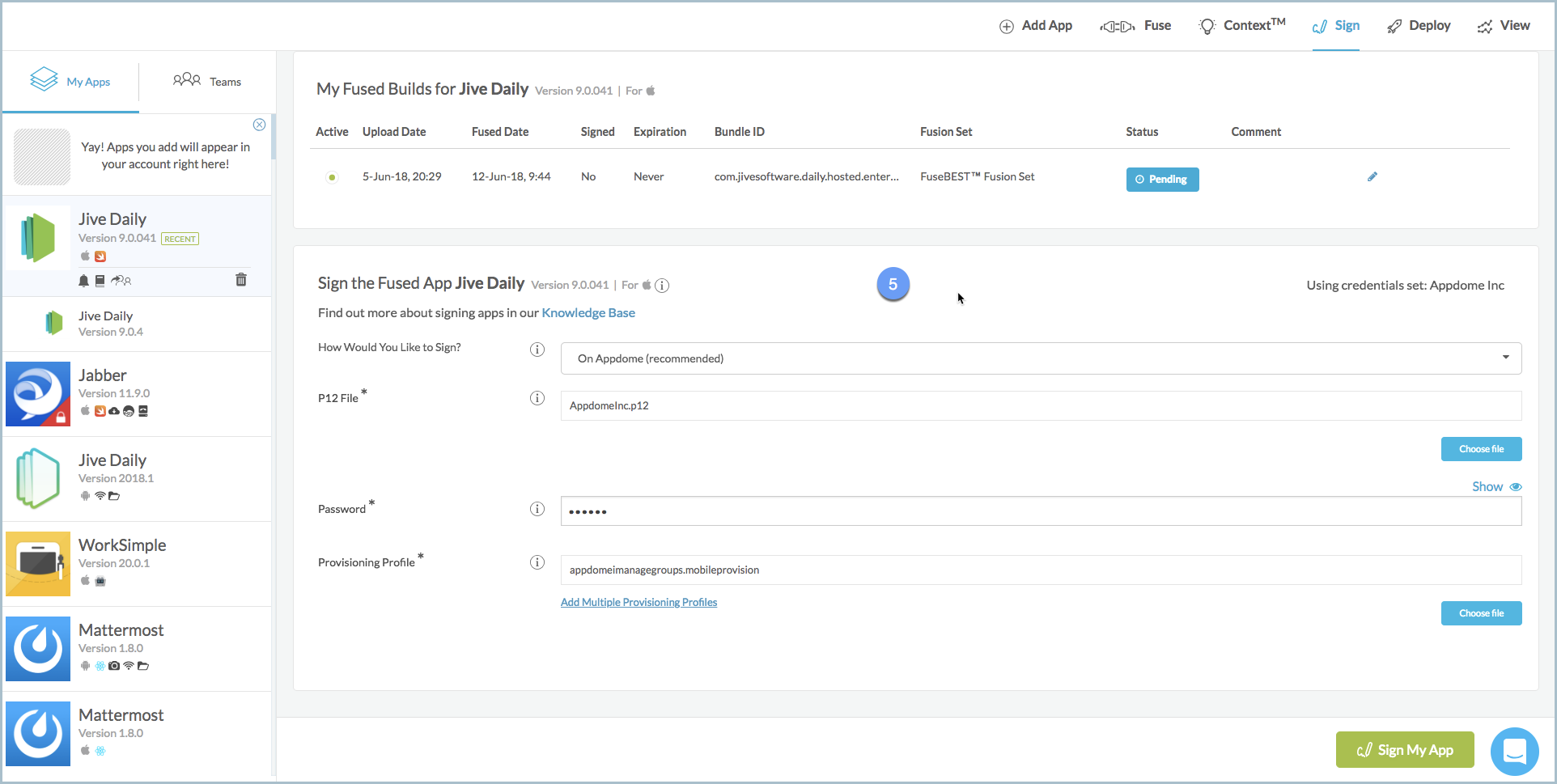 7.   Deploy
Congratulations! your fused app is ready for deployment! Download the Fused app to your local storage and follow the following steps to deploy the app on your BlackBerry environment.

Add this fused app to BlackBerry for deployment to BlackBerry enrolled iOS devices
Sign into your BlackBerry environment --> Apps --> Add App --> Internal apps
Browse for the fused app file --> Add
Install the app on your BlackBerry enrolled iOS device
Open BlackBerry Access on your iOS device --> open Appstore in BlackBerry Access.
You will then see your app listed.  Click it and Install.
Next, it will ask you if you want UEM Client to open the app --> Open.
You can now open your integrated BlackBerry Messenger app.


Thanks for visiting the Appdome knowledge base!  We hope Appdome is living up to our mission of simplifying your mobile integrations.  If you don't already have an account, you can sign up for free.  Happy fusing!
For more information on Appdome for BlackBerry Messenger please visit this resource.