With all the private and sensitive corporate information available on your mobile devices, companies often make policies requiring users to set a pincode or fingerprint to unlock mobile devices. This way, if the device is lost or stolen, it cannot be unlocked without the proper fingerprint or pincode.
Even with these policies, your device can still be compromised. Maybe you accidentally left your unlocked mobile phone behind while paying for groceries, or your kids got distracted and left your unlocked phone at a restaurant. It happens! The great news is that your apps can still be secured by fingerprint or Pincode even if your device is unlocked. Yay!
The In-App Pincode feature is available from the Fuse > Security > Mobile Privacy section on Appdome.
The picture below shows an example of an iOS app that will be Fused with Appdome Security and the in-App Pincode feature. If you enable in-App Pincode, Apple devices that are capable of using Fingerprint (Touch ID) and have Touch ID enabled will prompt users for a fingerprint when the app is started.  If Touch ID is not available or enabled, the pincode option is used. If the option is set to use a complex pincode, Android users must enter a minimum of 6 numbers when they define their pincode and iOS users can enter 1-9 digits.  You can also set the Lock Out Attempts, if someone is trying to figure out your pincode and have too many wrong entries, the app is locked.

When the user installs an iOS app Fused with the Appdome in-App pincode, a fingerprint is required by default to unlock the app. The following picture shows an example of the Jive Daily requiring a fingerprint for access.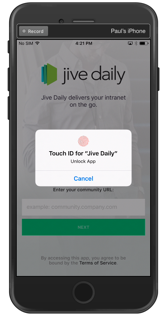 If the device does not have Touch ID enabled, the user A. starts the app and B. enters a new pincode twice.  After that C. access to the app is granted. Any time the app is restarted, the user will have to enter their new pincode.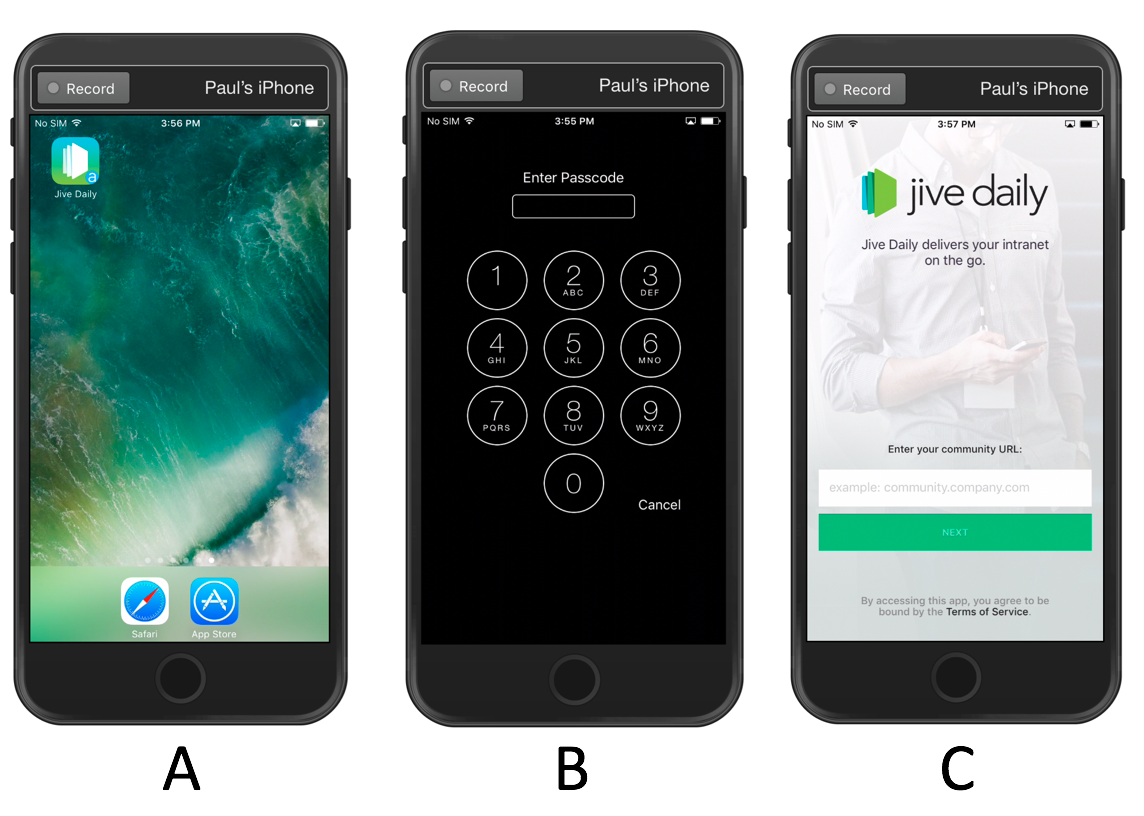 If you are using an EMM solution, you may be asking yourself, doesn't my EMM provide this capability? The answer is Yes.  In this case, Appdome automates app integration with EMM SDKs so your apps can use the awesome security capabilities provided by your EMM solution without writing a line of code. That is great!
 For more information on Appdome Mobile Security Suite please visit this resource.