Appdome enhances security and optimizes performance for apps Fused with EMM SDKs by using Appdome Dynamic Container Management. 
Appdome Dynamic Container Management is a set of file system encryption and obfuscation techniques that encrypt all the files created after the EMM is done provisioning, using keys dependent on the EMM secret tokens. 
We use the same advanced encryption method as the Data at Rest Encryption option that is available with the Appdome Security Suite. The only difference is that instead of using an Appdome generated key, Appdome Dynamic Container Management uses a key that has been generated based on a secret token that is retrieved from the EMM management server.  
How To Fuse Appdome Dynamic Container with EMM SDK
To Fuse your app with Appdome Dynamic Container and EMM SDK, follow these simple steps.
Upload new app or Import an App from the App Publisher Catalog
If you have purchased an EXTEND or IDEAL account on Appdome, you have access to the App Publisher Catalog when importing apps. You can also request a trial.
To begin, click My Apps
Upload new app or choose an app from the Catalog and click Add to My Apps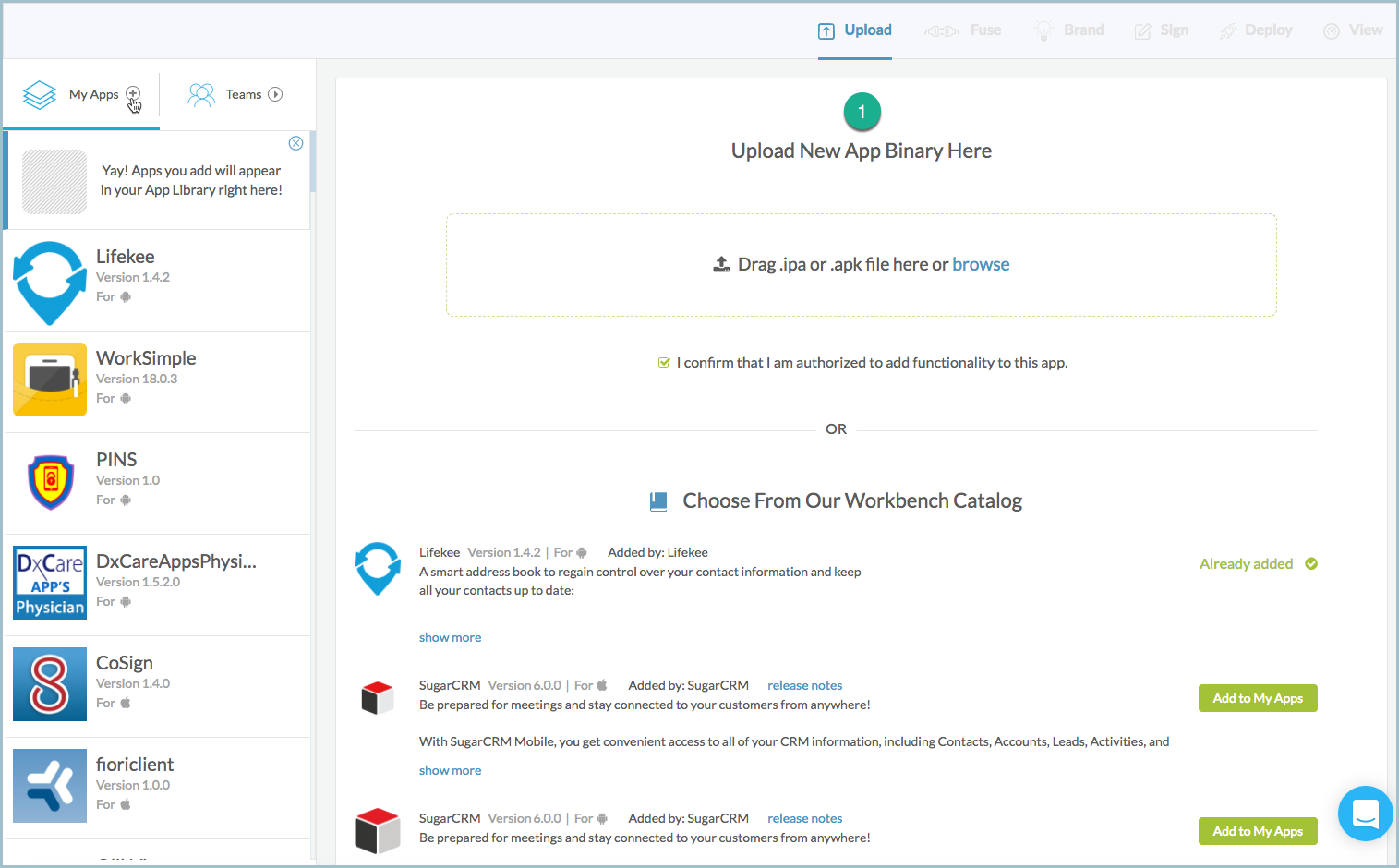 Note: the step numbers are for your convenience and are not shown on the actual UI.
Once you find the .ipa or apk file you intend to use, simply select it. The file will be automatically added to the Appdome platform. Once complete, you'll see a success message and automatically moved to the next step in the workflow.
2. Get ready to make your Fusion selections
After your app is uploaded to Appdome, you are ready to make your Fusion selections from the Fuse tab of the workflow.
 Click Next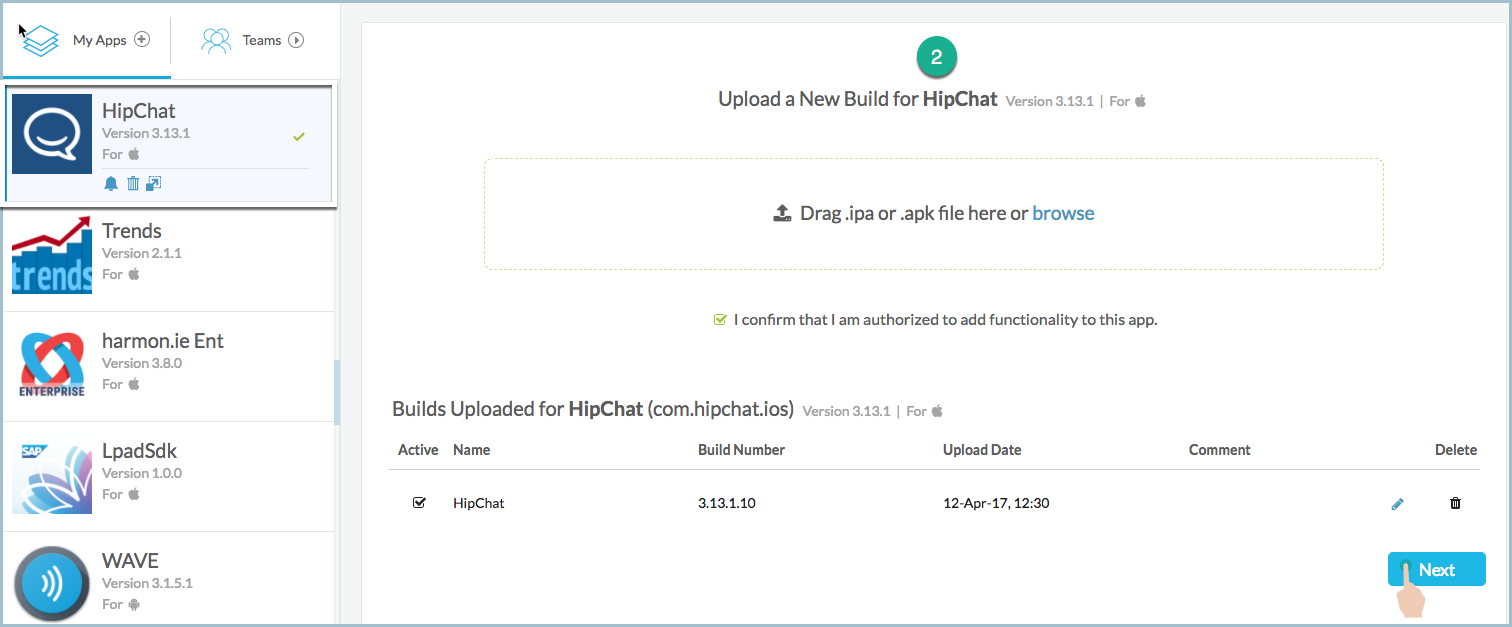 Note: the step numbers are for your convenience and are not shown on the actual UI.
3. Select Management under the Fuse tab
To add the EMM SDK, you'll need to enable or "turn on" 3rd Party SDKs on the Appdome platform. Next, choose the 3rd Party EMM SDK you wish to Fuse to your application – you'll see a list of EMM SDKs in the drop down. 
Click Management under the Fuse tab to get to the Fusion Settings.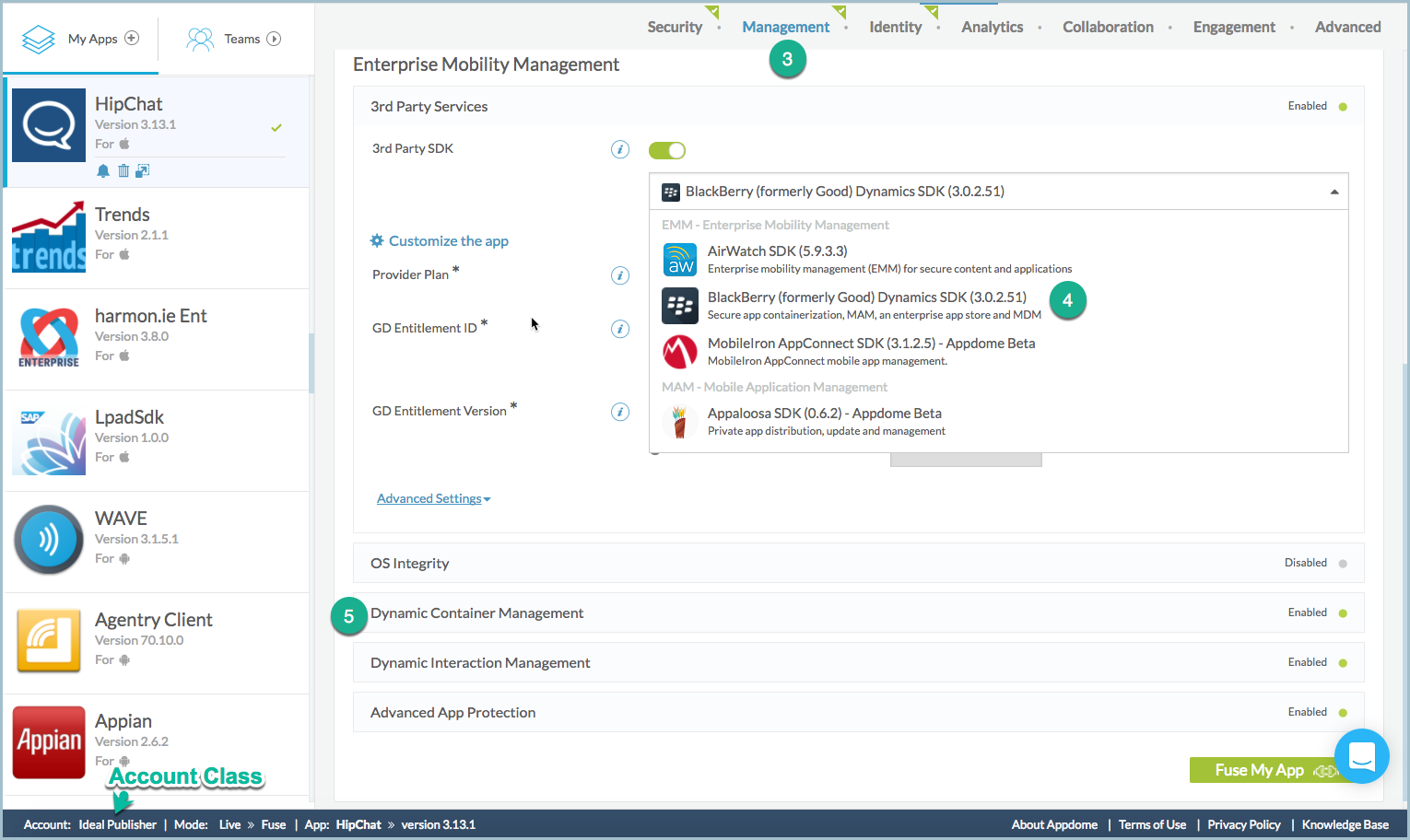 Note: the step numbers are for your convenience and are not shown on the actual UI.
4. Select EMM SDK
If you have an EXTEND or IDEAL account class on Appdome –viewable on the bottom status bar– there are options available to select a 3rd Party SDK.
 
 Next to 3rd Party SDK, move the slider button to the right which turns it on.
 From the drop-down list, select the desired EMM SDK.
5. Dynamic Container Management
Dynamic Container Management is Enabled by default. If you wish to turn it off, simply move the slider button to the left.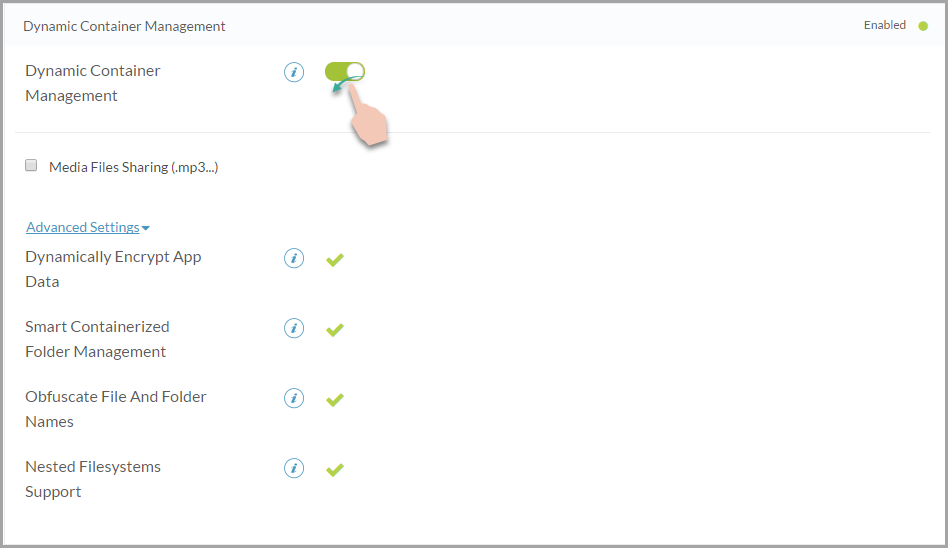 <6. Fuse My App
To start the Fusion process and integrate Appdome Dynamic Container with the desired EMM SDK, click Fuse My App
Note: The Fusion process can be from a few seconds to a few minutes depending on the size of your app. Appdome is stateful allowing you to leave this page or even log out. You will get an email when the process is complete.
When done, you will see a Fusion completed successfully message.
7. Fusion is complete, proceed to next steps
Once the application has been Fused, click Next.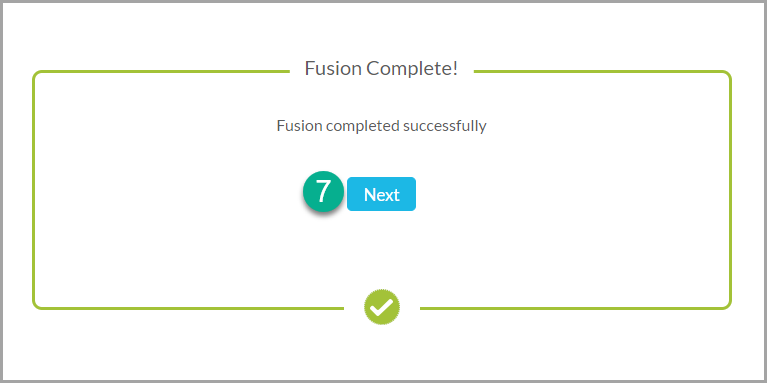 8. Customize your app
As part of the fusion process, it is also possible to change the app name, icon, favicon, and even add a custom config file without writing a single line of code. Brand it or Skip it. View Article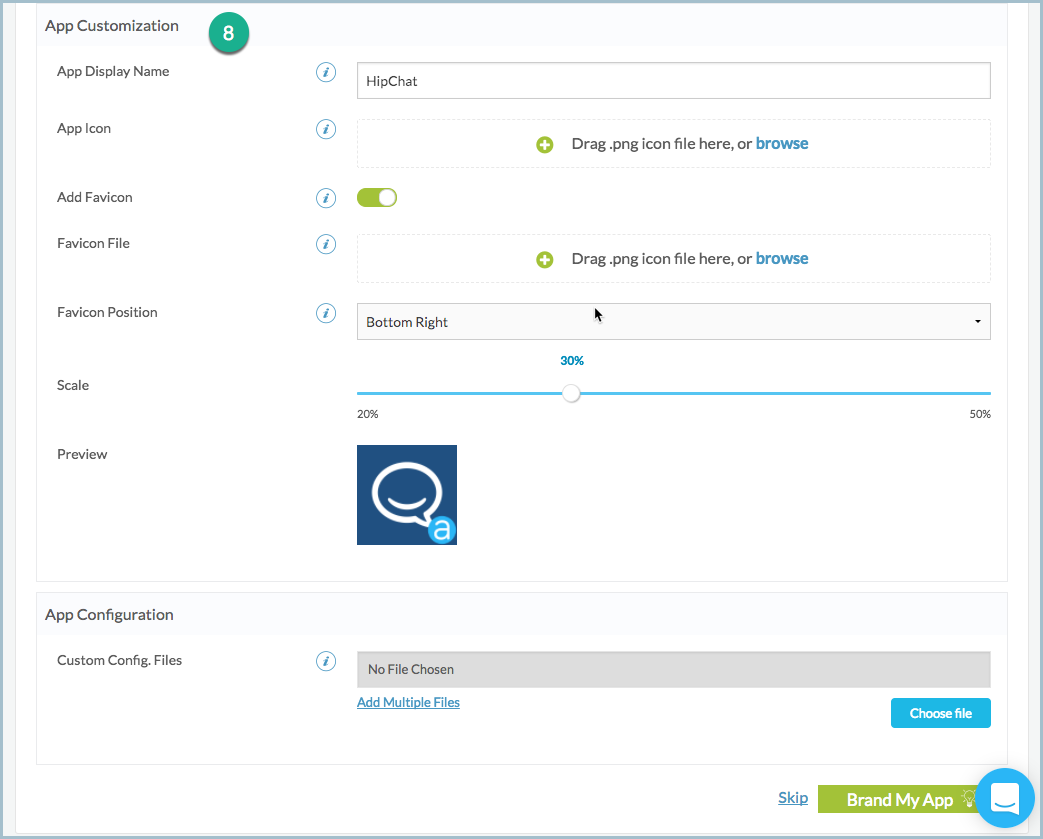 <9. Sign app Using Appdome or Skip to Sign Yourself
To deploy an app, it must be signed. You can sign using your own signing processes by downloading the fused app, or you can sign from within Appdome.
 
Explanations for how to sign an app using Appdome are available in the following knowledge base articles.
To skip the signing process and perform singing on your own, click the Skip button to the left of the Sign button to proceed to the app download section.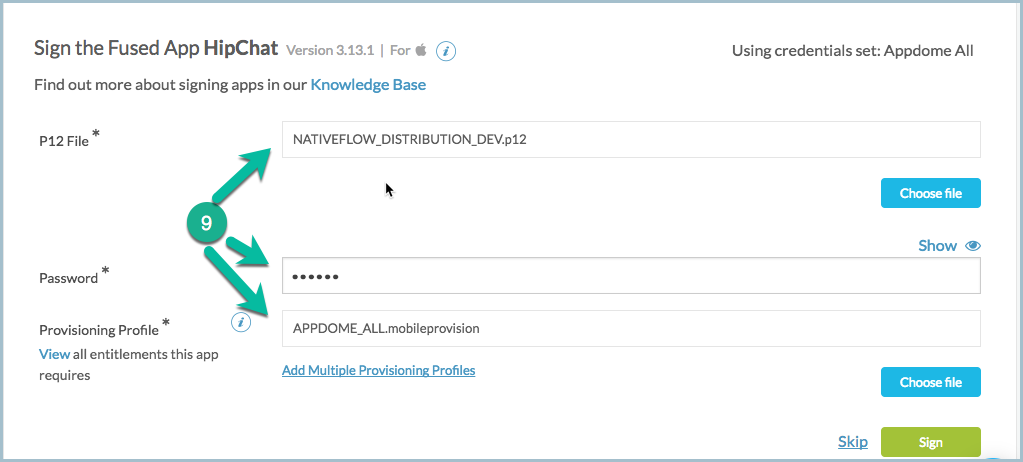 10. Download the App
Once fusion is complete, and you have signed or skipped the signing process, you click Download App File or click Copy Download App Link to obtain a web link that you can paste in a mail or text message from your computer.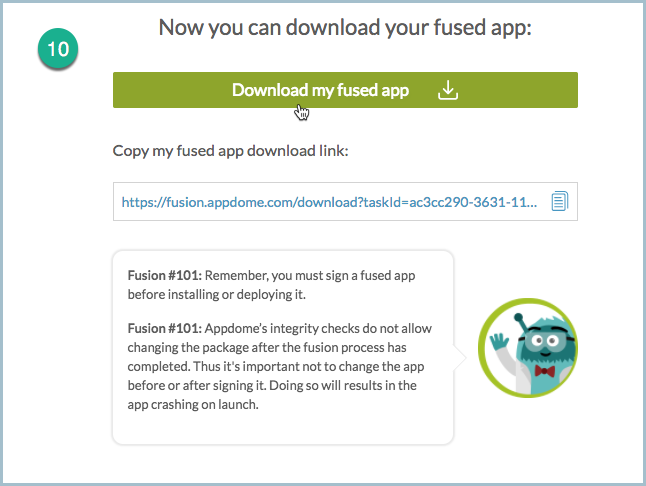 Release Note for Blackberry EMM users
Appdome Dynamic Container does NOT support an upgrade. 
Applications that are currently on the platform and once fused with Blackberry SDK with Blackberry Dynamic Legacy Container, will have to be un-installed and re-installed on the end-users devices to move to Appdome Dynamic Container.
The process will be as follow:
<1. You will be encouraged to migrate to Appdome's Dynamic Container Management. Click Migrate.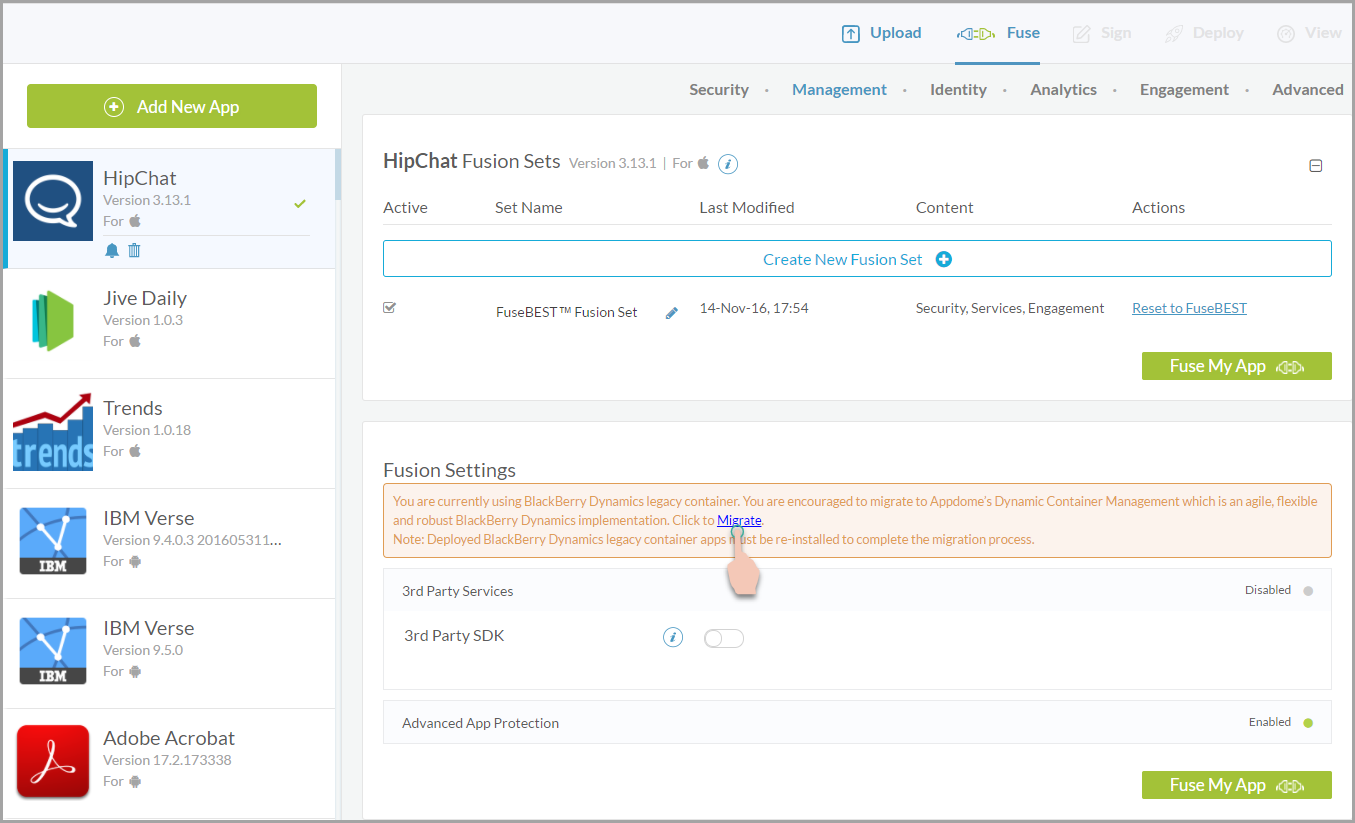 2. Continue to steps 5-10 in this article.
3. Un-Install and Re-Install the app.
Thanks for visiting the Appdome knowledge base!  We hope Appdome is living up to our mission of simplifying your mobile integrations.  If you don't already have an account, you can sign up for free.  Happy fusing!
For more information on Appdome for BlackBerry Dynamics please visit this resource