Fusing apps with Appdome will have all Fused apps detect if they have installed on a dangerous Jailbroken or Rooted device.  One of the most popular rooting methods is the Magisk and MagiskHide that are including access to /sbin/su, and SELinux policy modifications. This method is hard to detect with standard root detection protections. Appdome can detect if the device has been rooted through these methods.  
If you selected Root Prevention by Appdome from Appdome's BlackBerry SDK integration, and you are trying to open the app on a Rooted device, the app will exit to protect the user. Appdome will detect the rooted device and exit the application user from using the app on a malicious device.  Appdome has specific checks for root detection and does not allow the app to open on a rooted device when this protection is enabled.
Appdome's root detection is not susceptible to the Magisk root (and root hiding).
Technical Workflow with EMM SDK
To fuse the EMM SDK with Extended Root Detection protection, go to Fuse >Management and choose an EMM SDK
For Android apps under Appdome Mobility Suite:
1. Root Detection - Detect whether the user is running your application on a rooted device
2. Detect SELinux Enforcement - preventing the application from running on devices with SELinux enforcement.  You can customize your App Compromise Notification.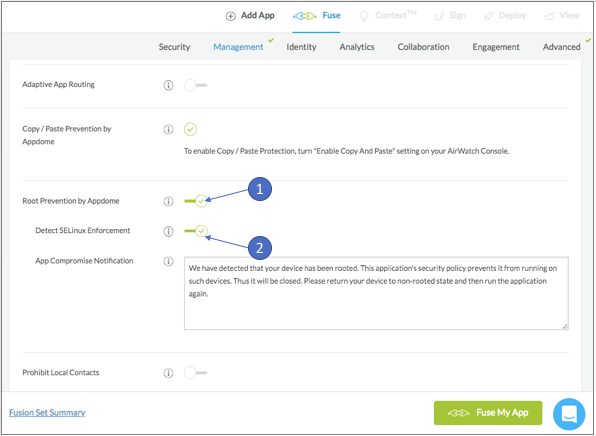 For iOS apps under Appdome Mobility Suite:
1. Jailbreak Prevention by Appdome - Blocks your application's users from using the app on a jailbroken device.  You can customize your App Compromise Notification.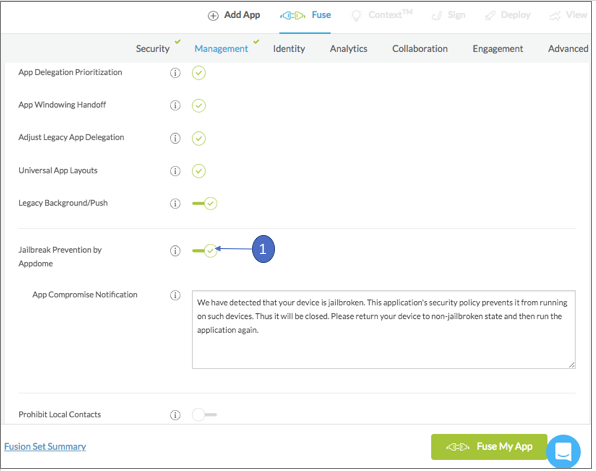 5. Fuse My App - To combine the selected features with your app, complete the process by simply press: 

Don't forget to sign your application after fusion!
Thanks for visiting the Appdome knowledge base!  We hope Appdome is living up to our mission of simplifying your mobile integrations.  If you don't already have an account, you can sign up for free.  Happy Fusing!  
For more information on Appdome for BlackBerry please visit this resource.