Appdome Mobile Security Snapshot: Disable Screenshots 
Protect your app's data by disabling screenshots with Appdome

Disable Screenshots is part of the Appdome Mobile Security Suite. Disable Screenshots falls under Appdome's Mobile Privacy category. Like all features in the Appdome Mobile Security Suite, users can select this feature, combine it with other features in the security suite, or select the entire mobile security offering form Appdome.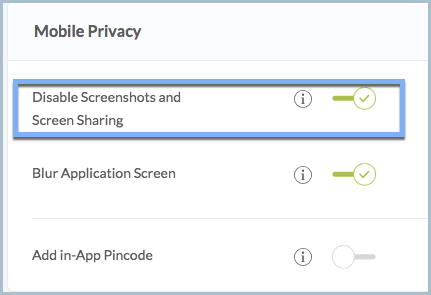 When "Disable Screenshots" is enabled, screenshots of the app display cannot be taken using the device's camera. For more information on these types of controls, check out this blog.


Thank you for visiting the Appdome knowledge base!  We hope Appdome is living up to our mission of simplifying your mobile integrations.  If you don't have an account, you can sign up for free.  Happy Fusing!
For more information on Appdome Mobile Security Suite please visit this resource.