Complete mobile app security in a click

Appdome's Mobile Security Suite is a comprehensive mobile security offering that delivers best practice mobile security functionality to any app. The Appdome Mobile Security Suite includes six categories of security and mobile app protections, covering literally every major mobile security category that matters: 
  
ONEShield by Appdome:

Anti-Debugging

- Enabling this feature will allow you to protect the app from app debugging attempts.  

Anti-Tampering

- This will protect the Fused app from all tampering attempts.  

Checksum Validation

App Integrity/Structure Scan

Anti Reversing

- This will encrypt key logical elements and resources within your application such as methods, strings, and assets.

Obfuscate Fused Services

- Obfuscate sources and strings of Fused code.

Encrypt Strings and Resources

- When you enable this it will encrypt all Java application strings and assets.  When enabled it will also encrypt application specific sensitive data such as keys, shared secrets, and tokens.  

Encrypt in-App Preferences 

- Turning this on will encrypt shared preferences files.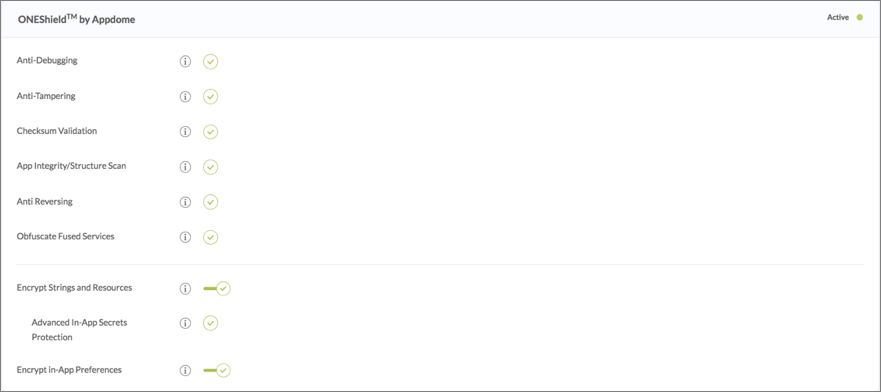 Data Loss Prevention:

Data-at-Rest Encryption

- Protect the data the application creates on the device.  It will also create secure data container that will prevent other applications from accessing the app's encrypted data and prevent the same application on a different device to open this encrypted data as well.  

Media Files Sharing

- With this enabled, media files can be shared to leverage external media apps and browsers.

Local Web Files Caching

- With this on, local web file caching is enabled and will not be encrypted for web-intensed apps.  

Enable users to restore the phone from backup

In-App generated seed

- With this enabled, the app will seed the Data-at-Rest-Encryption-Key via event.  Until the key is seeded, no files will be encrypted.

Exclude the Following Files

Copy/Paste Protection

- Prevent application data from being copied and pasted outside of the application.  

OS Integrity:

Root Prevention

Detect SELinux Enforcement

- this prevents users from running your Fused app on devices with no SELinux enforcement.  

Detect Unknown Sources

- this will prevent users from running your Fused app when they've enabled "allow app install from unknown sources" native OS setting is enabled on the device.

Detect Developer Options

- When users have enabled the native "developer options" OS setting on their devices they will not be able to run your app.  

In-App Event Handling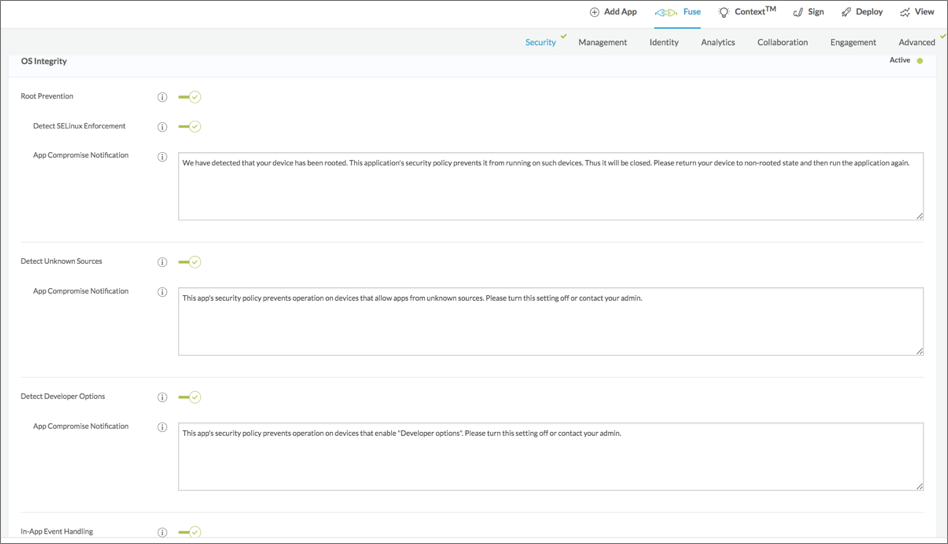 Secure Communication:

SSL Certificate Validation

- Validate the authenticity of the SSL certificate being used by the destination server.  This protects application from connecting to untrusted, known, or malicious destination or websites.  

Proxy Prevention (Man-in-the-Middle Prevention)

- Detects and prevents MITM attacks on the application by preventing connections to unknown, untrusted, or malicious proxies or other intermediary devices.  

URL Whitelisting

- Ensure that the Fused app can only connect to a trusted set of destinations or hosts, that you must specify in the URL List setting.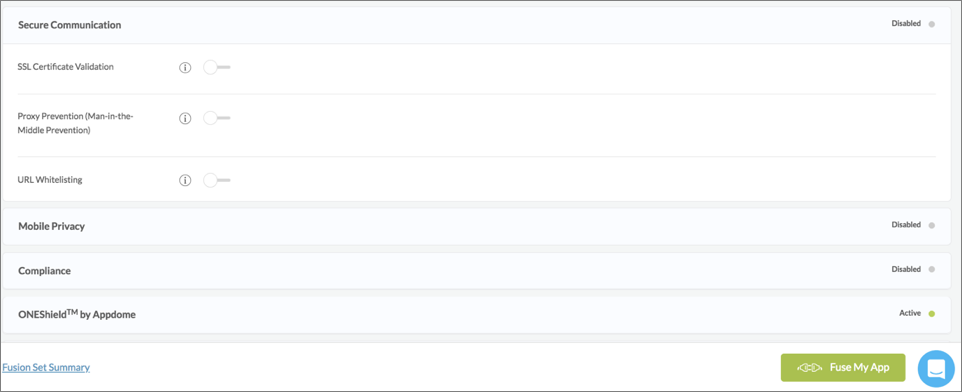 Mobile Privacy:

Disable Screenshots and Screen Sharing

- This prevents screenshots of the applications and disable screen sharing while presenting from a PC.  

Blur Application Screen

- When enabled, this blurs the application preview screen whenever minimized protecting the selective data from being visible outside the app.

Add in-App Pincode

- The enables the Fingerprint/Pincode from unlocking you app.  

Compliance:

FIPS140-2 Cryptographic Modules

- With this enabled it uses FIPS140-2 certified cryptographic modules, when encrypting data.  


Examples of key features are Data at Rest Encryption, Copy and Paste Protection, Jailbreak, Rooting, Anti-tampering, Anti-debugging, Obfuscation, and much more.  Visit our Knowledge base and use the Search function to learn more about Appdome's mobile security offering.  

This is perfect for mobile developers to help them release secure apps from the first use.  App Fusion does not impact your app functionality or add time to your development cycle.  It's fast, easy, and non-intrusive.  Interested?  Great!  

Thanks for visiting the Appdome knowledge base!  We hope AppFusion is living up to our mission of simplifying your mobile integrations.  If you don't already have an account, you can sign up for free.  Happy Fusing!  
For more information on Appdome Mobile Security Suite please visit this resource.