Overview
This article gives an overview of the key components of Fusing an app with Appaloosa. Appaloosa helps mobile end digital team build, test and deploy their mobile apps with its simple and secure enterprise App Store. Customers can fuse the Appaloosa SDK with its full functionality using Appdome, rapidly, efficiently, and easily.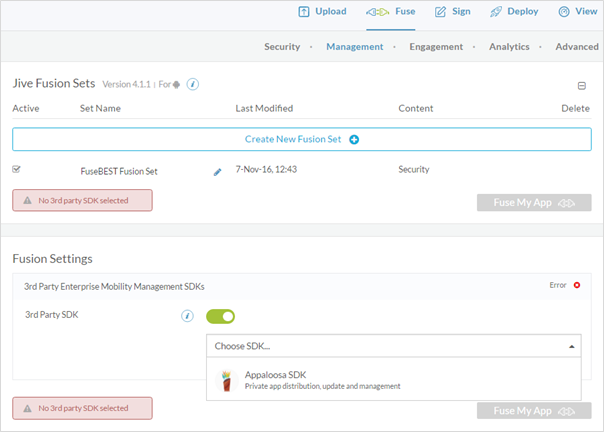 Appdome hosts several leading EMM SDKs on the AppFusion Platform, including the Appaloosa SDK. It enables enterprise customers to integrate the Appaloosa SDK into post-developed mobile apps using a simple 'point and click' web interface.
Appdome for Appaloosa enables the following key Mobile Application Management (MAM) functions, which can be fused into post-production enterprise apps without requiring development resources to be bogged down with messy integration work.
Analytics to get insight on the usage made of the apps distributed on Appaloosa
Auto update to force the app update if a more recent version is available for the user
Black List to block access to the app if the user is no longer in the store or if the device was lost or stolen
You enable the Appaloosa SDK Fusion settings by selecting your app, then going to the Fuse > Management page, then enable 3rd party SDK. Appaloosa SDK will be in the dropdown list. If the Appaloosa SDK is not available,  please email support@apppdome.com to have the selection enabled.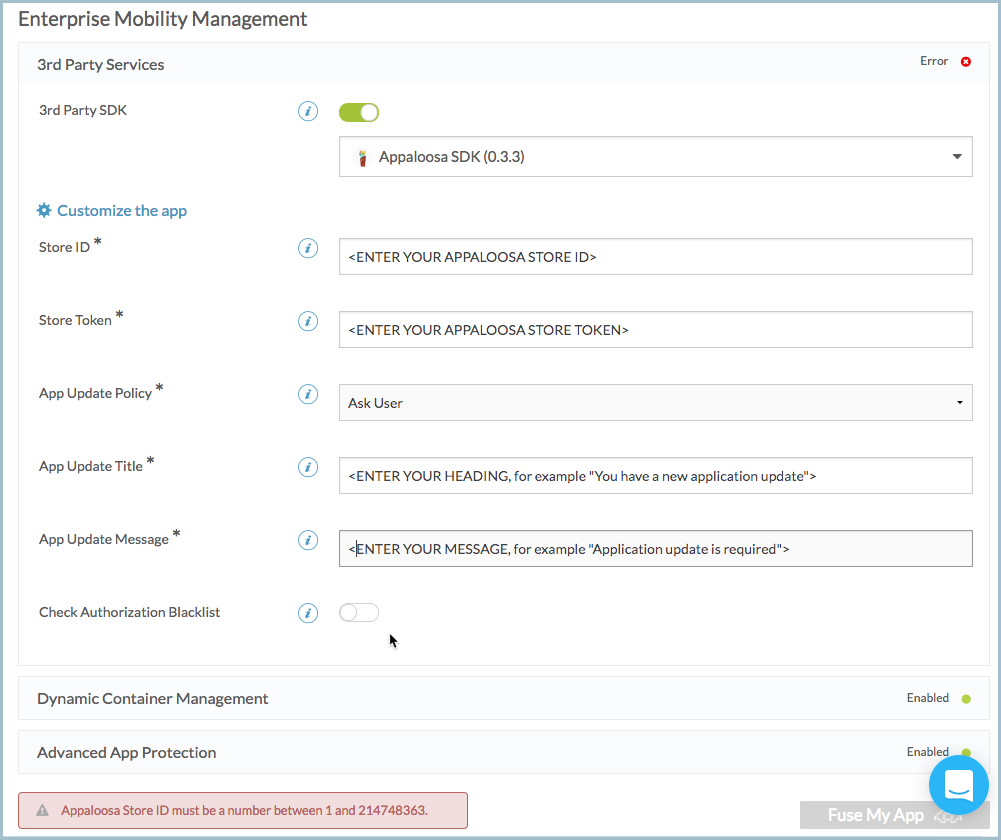 The following table provides the options available along with the description for each. 
 
Name
Display
Description
Store ID
Appaloosa Store ID must be a number between 0 and 214748363
Unique store identification to Appaloosa store website
Store Token 
Text
Unique token identifier to the Appaloosa store website
Enable Analytics 
Enable\Disable
Enabling this feature will provide statistical information on app store engagement, installed based and active users
 
 
 
 
 
 
 
App Update
Select from list
Choose the enforcement level.
Do not Check – user will not receive updates
Force Update – will force the user to update
Ask User – ask the user if he would like to update
Check Authorization Blacklist
Enable\Disable
Available only to Appaloosa enterprise-plan customers, offers advanced authorization actions.
Dynamic Container Management
Enable\Disable
Disabling this feature will turn off Appdome Security 
Thanks for visiting the Appdome knowledge base!  We hope Appdome is living up to our mission of simplifying your mobile integrations.  If you don't already have an account, you can sign up for free.  Happy fusing!  
 
For more information on Appdome for Appaloosa please visit this resource.