Overview
This article gives an overview of the key components of Fusing an app with Appaloosa. Appaloosa helps the mobile end digital team build, test and deploy their mobile apps with its simple and secure enterprise App Store. Customers can fuse the Appaloosa SDK with its full functionality using Appdome, rapidly, efficiently, and easily.
How to integrate the Appaloosa SDK using Appdome
To Fuse your app with the Appaloosa SDK, follow these simple steps.  Note, the same workflow can be used for either an Android or iOS app.
1.   Upload App to the Appdome platform
You will need to have your app binary available to begin. If you are running iOS, you can use a signed or unsigned .ipa file. However, if you are running Android, please make sure you upload a signed .apk file. The app you are Fusing on Appdome can be built with any tool such as xCode for iOS and Android Studio using any mobile development frameworks such as Xamarin, Cordova, and React Native. 
If you have purchased an EXTEND or IDEAL account on Appdome, you have access to the App Publisher Catalog when importing apps. You can also request a trial.
To begin, click Add New App
Upload new app or choose an app from the Catalog and click Add to My Apps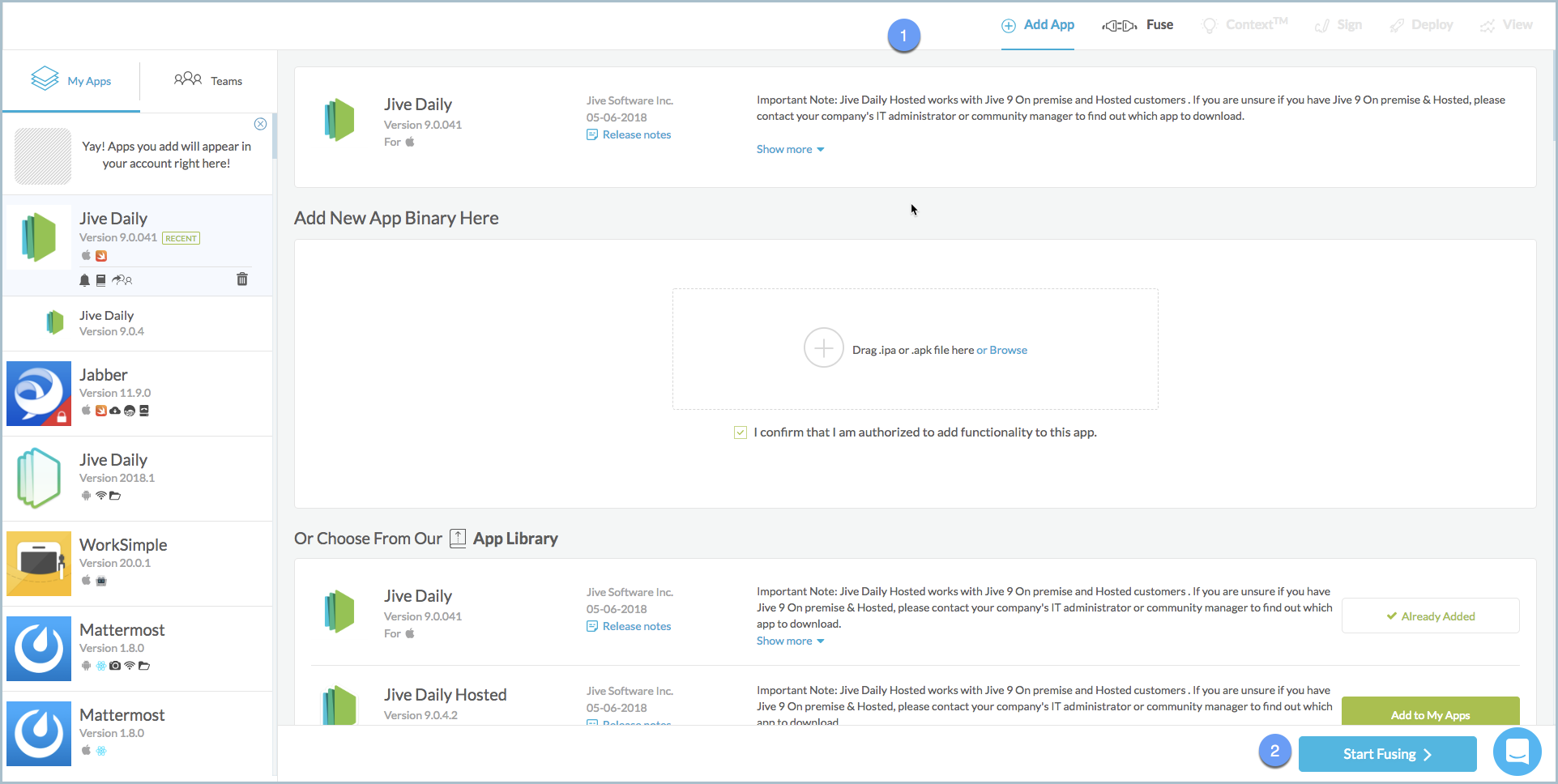 Once you find the .ipa or .apk file you intend to use, simply select it. The file will be automatically added to the Appdome platform.  Once complete, you'll see a success message and automatically moved to the next step in the workflow.
2.   Get ready to make your Fusion selections 
After your app is uploaded to the Appdome platform, you are ready to make your fusion selections from the Fuse tab of the workflow.
 
Click Start Fusing
3.   Select Management under the Fuse tab
To add the Intune SDK, you'll need to enable or "turn on" EMM Services on the Appdome platform. Next, choose the EMM SDK you wish to fuse to your application – you'll see the Appaloosa SDK listed in the drop down.  
 
Click Management under the Fuse tab to get to the Fusion Settings.
4.   Select the Appaloosa SDK
If you have an EXTEND or IDEAL account class on the Appdome platform –viewable on the bottom status bar– there are options available to select a 3rd Party SDK.
 
 Next to EMM Services, move the slider button to the right which turns it on.
 From the drop-down list, select Appaloosa SDK.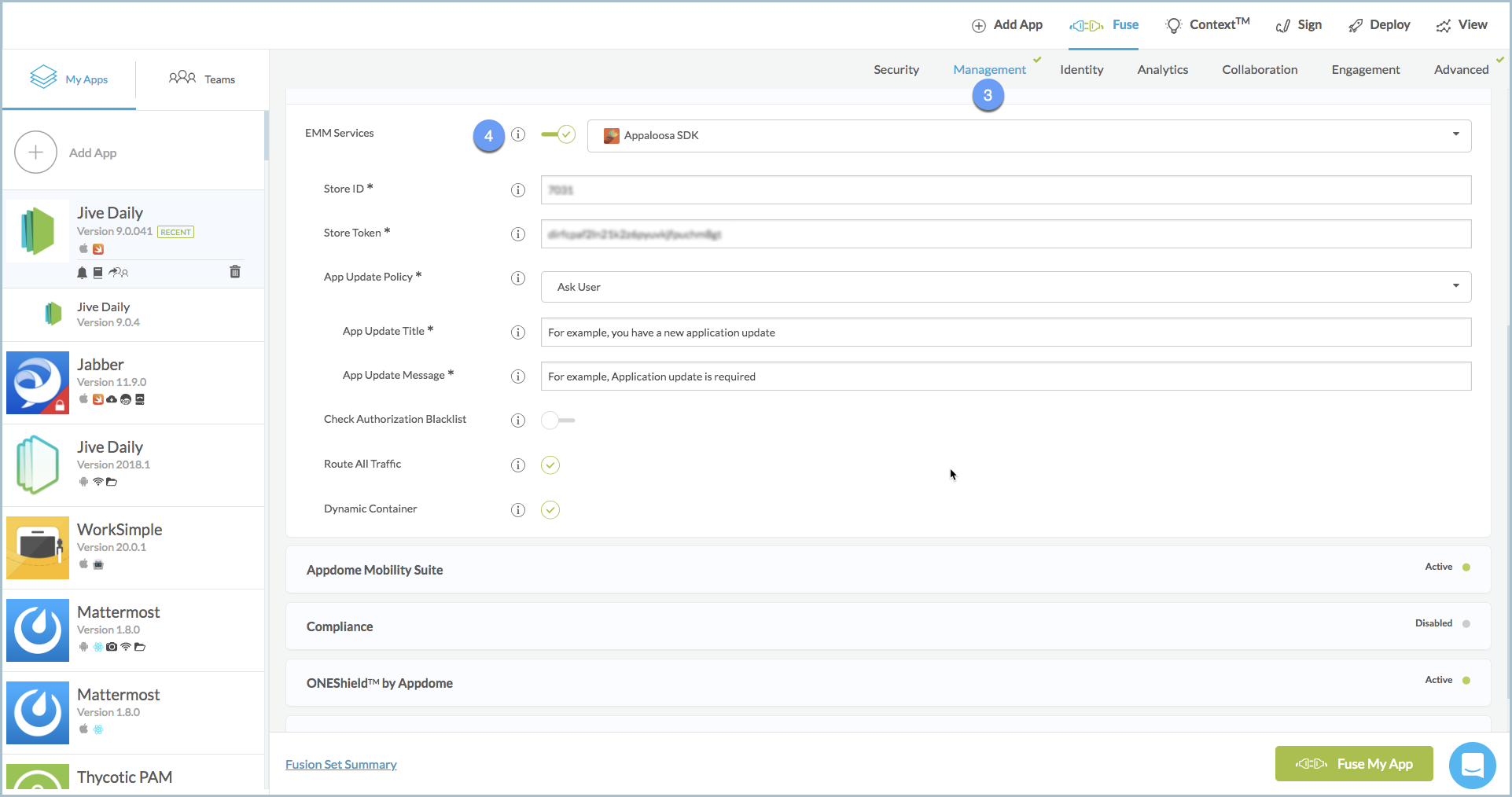 Appdome for Appaloosa enables the following key Mobile Application Management (MAM) functions, which can be fused into post-production enterprise apps without requiring development resources to be bogged down with messy integration work.
Analytics to get insight on the usage made of the apps distributed on Appaloosa
Auto update to force the app update if a more recent version is available for the user
Black List to block access to the app if the user is no longer in the store or if the device was lost or stolen

The following table provides the options available along with the description for each. 
 
Name
Display
Required Status
Description
Store ID
Appaloosa Store ID must be a number between 0 and 214748363
Mandatory
Unique store identification to Appaloosa store website
Store Token 
Text
Mandatory
Unique token identifier to the Appaloosa store website
Enable Analytics 
Enable\Disable
Optional
Enabling this feature will provide statistical information on app store engagement, installed based and active users
 
 
 
 
 
 
 
App Update
Select from list
Optional
Choose the enforcement level.
Do not Check – user will not receive updates
Force Update – will force the user to update
Ask User – ask the user if he would like to update
Check Authorization Blacklist
Enable\Disable
Optional
Available only to Appaloosa enterprise-plan customers, offers advanced authorization actions. Checks if the app is authorised or not.
Dynamic Container Management
Enable\Disable
 Optional
Disabling this feature will turn off Appdome Security 
Thanks for visiting the Appdome knowledge base!  We hope Appdome is living up to our mission of simplifying your mobile integrations.  If you don't already have an account, you can sign up for free.  Happy Fusing!  
 
For more information on Appdome for Appaloosa please visit this resource.