Integrating mobile services into my apps

Appdome offers a growing set of mobile services that can be Fused with apps uploaded to the Appdome platform.

To access mobile services, users need only create an account.  From there, any user can browse the mobile services available on the platform.  All mobile services are separated into easy to access service categories such as Security, Mobility Management, Mobile Engagement and Analytics.  More mobile services will be added over time.  To access the services available on the platform, users simply select the app that they want to fuse (from the App Library on the left), then click the 'Fuse' menu option of the Mobile Integration Workflow.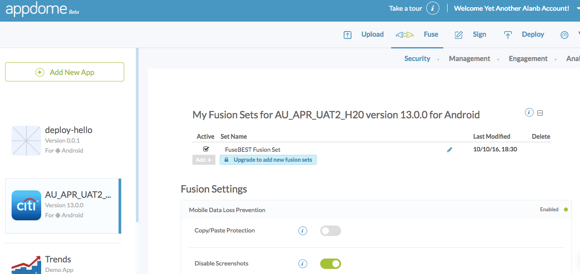 Select Fuse





Once the 'Fuse' option has been selected, users can see and make service selections such as features from the Appdome Security Suite and mobile SDKs made available on the platform in each service category. Simply point, click and fuse the capabilities you want to be combined with your app, and Appdome handles the rest.  This frees your developers to focus on new functionality and new apps, and leave the integration dirty work to Appdome.   

Thank you for visiting the Appdome knowledge base!  We hope Appdome is living up to our mission of simplifying your mobile integrations.  If you don't have an account, you can sign up for free.  Happy Fusing!
For more information on Appdome Mobile Security Suite please visit this resource.