Both Google and Apple both require that apps must be signed before they can be used on mobile devices.  If you have an account on Appdome, you can sign apps using Appdome's built-in signing capabilities, or you can sign apps using your own mechanism outside of Appdome.  It's your choice.  If you wish to Deploy apps from Appdome, then those apps must be properly signed.   If you choose to sign your apps on the Appdome, the process is quick and easy, for both Android and iOS apps. 
In order to sign your Android app, you'll need a  valid signing certificate stored in the Android development environment.  To use your certificate, you'll need access to the following.
Keystore - This should be the same keystore file used to sign your Android app when distributing it via Google Play. 
Keystore Password - The password used to unlock your keystore.
Key Alias - The name you assigned to your keystore. 
Key Password - This is the specific password defined for your signing key.  
Signing an Android app on Appdome
Appdome provides the easiest and fastest way to sign your Android application.  As part of the fusion process, you can sign your fused app before deploying it. After making your service selections (such as SDKs or security features), you can upload your certificate and provisioning profile to enable signing after the fusion process completes.

First, choose the app you wish to sign from your personal app library.





Next, select Sign from the Mobile Integration Workflow. 
Enter Keystore, Keystore Password, Key Alias, and Key Password.
Click Sign My App.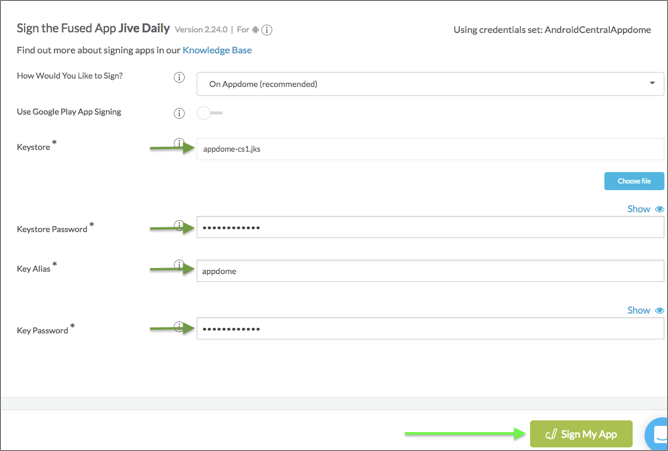 Browse to the folder that the keystore is stored on your hard drive, fill in the required fields and press 'Next.'
 
| App Code signing for Android | Display | Description |
| --- | --- | --- |
| Keystore | Browse file | Path to your keystore file |
| Password | Text | Keystore and Key passwords |
| Alias | Text | The given alias name of your keystore |


Your Android app has now been successfully signed on Appdome.
 
If you would like to sign your Android app with Google Play App Signing you can enable it at this signing page.  
You will need to insert your App Signing Certificate SHA-1

Helpful links about signing Android apps from the Android Developer portal:

Thanks for visiting the Appdome knowledge base!  We hope Appdome is living up to our mission of simplifying your mobile integrations.  If you don't already have an account, you can sign up for free.  
Happy Fusing!